DATES

---

PRESS NIGHT

---

Supporters Night

---

Young People's Night

---

Caption Night

---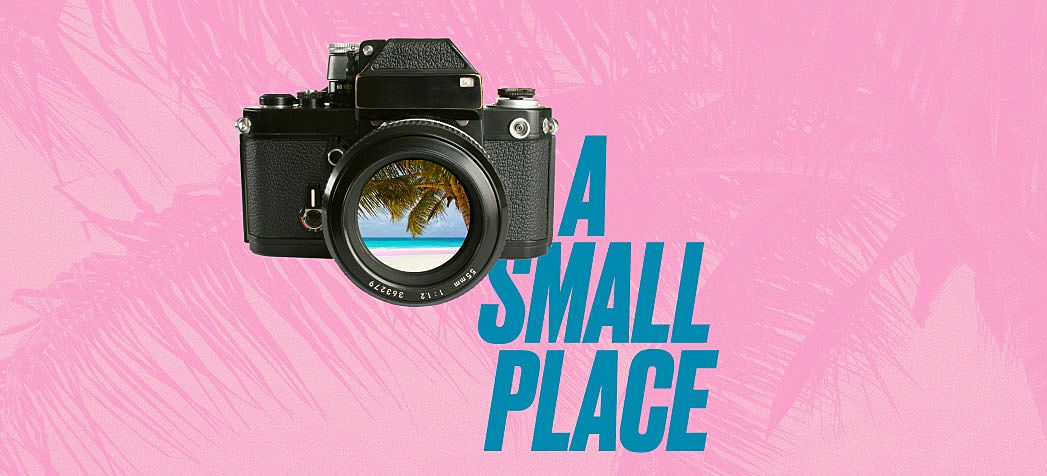 Share this production on Twitter or Facebook!
"You emerge from customs into the hot, clean air: immediately you feel cleansed, immediately you feel blessed (which is to say special); you feel free."

For the first time ever, Jamaica Kincaid's searing story about Western colonial exploitation is adapted for the stage. Fly with us to Antigua and take a closer look at the past, the present and where we really are.
Adapted from the book by Jamaica Kincaid
In a version by Anna Himali Howard and Season Butler
Check out the rehearsal photos
here
.
Press Night: 13 November
Supporters Night: 15 November
Young People's Night: 23 November
Caption Night: 27 November

Evening performances: 7.30pm
Matinees: 3pm
Cherrelle Skeete's stage credits include Fun Home (Young Vic), The Phelbotomist (Hampstead Theatre), Marcia in The Seagull and Jack and the Beanstalk (Lyric Hammersmith), Harry Potter and the Cursed Child (Palace Theatre), Three Days in the Country and Amen Corner (National Theatre), Wind in the Willows (Royal & Derngate), The 24 Hour Plays (Old Vic), An I and Silence (Finborough Theatre).

On television Cherrelle has appeared in Silent Witness and Doctors (BBC), Danny and the Human Zoo, The Five, Ordinary Lives and Call the Midwife.
Jamaica Kincaid's essays, stories, and novels are evocative portrayals of family relationships and her native Antigua. Moving to New York at the age of 16 she later became a staff writer for The New Yorker magazine and her first book, At the Bottom of the River, a collection of short stories published in 1983, set a pattern for her later work, mixing lyricism and anger. Annie John and Lucy were autobiographical in nature with an emphasis on mother-daughter relationships and A Small Place continued her depiction of Antigua and her rage at its despoliation.

Kincaid's treatment of the themes of family relationships, personhood, and the taint of colonialism continued in The Autobiography of My Mother and My Brother, an account of the death from AIDS of Kincaid's younger brother. Her 'Talk of the Town' columns for The New Yorker, often chronicling Caribbean Culture were collected in Talk Stories.

Later novels include Among Flowers: A Walk in the Himalaya and See Now Then which follows the late-life dissolution of a marriage through the eyes of the jilted wife.
Anna Himali Howard is a director and theatremaker. She was Paines Plough's Trainee Director in 2016. She is also an Alumni Artist at the Gate Theatre and an alumnus of the Birmingham REP Foundry. Her work as a Director includes Albatross by Isley Lynn for NEW (RWCMD/Paines Plough/Gate Theatre), Life Is No Laughing Matter by Demi Nandhra (Birmingham REP/mac Birmingham), 20B by Jane English (Birmingham REP/CPT). As a theatremaker work includes Mahabharat/a by Anna Himali Howard and Zarina Muhammad (Camden People's Theatre), The Beanfield by Breach Theatre (New Diorama, National tour 2016). Anna was Associate Director on Fleabag by Phoebe Waller-Bridge (Drywrite/Soho Theatre international tour) and Assistant Director on Othello, directed by Ellen McDougall (Shakespeare's Globe) and In the Night Time (Before the Sun Rises) by Nina Segal, directed by Ben Kidd (Gate Theatre).
Season Butler is a writer, dramaturg and artist working with performance, installation and text composition. Her writing, research and performance practices centre around intersectionality and narratives of otherness, isolation and the end of the world as it shifts from a speculative concern to a realist one. In 2014, Season won second place in the SI Leeds Prize for novels by Black and Asian women, and was awarded the Live Art UK Diverse Actions Leadership Bursary in 2017. She is a member of I'm With You, a collective concerned with performance, queer domesticity and gesturing toward a wily future, and an associate artist of Somerset House Studios. Her debut novel, Cygnet, will be published by Dialogue Books (UK) and Harper Collins (US) in spring 2019.
Munotida Chinyanga is a London based collaborative theatre maker specialising in Directing, Sound Design and Live Arts. Munotida works with text and sound in a process that is similar to that of a DJ by sampling/mixing narratives or chunks of text as well as scoring atmospheres and working sonically exploring cognitive behaviours to produce contemporary work.

Munotida has three styles of work:

1. Multi-sensory, interdisciplinary work that involves investigating the balance between design and performance. An alternative experience, that blurs the boundaries between film, sound, music, projection and live art, to birth a visceral experience - a hybridised performance. To make design on stage something that is alive, breathing and evolving narratively as the text does, empowering the performers as Live Designers.

2. Stylised Naturalism, that plays with non-linear and the 'anti-narrative'.

3. Pro-wrestling storytelling. Working in the world of wrestling using theatrical techniques to tell stories.

Munotida trained at Middlesex University, the Almeida's Emerging Directors programme the Young Vic's Director Training Programme including Springboard 2018, Fresh Direction 2018 and as the Boris Karloff Trainee Assistant Director.
Johanne Jensen is a lighting designer with an interest in contemporary and devised theatre. Her designs are an exploration of the dramaturgy of light and how the lighting contributes to tell a story in the form of space, composition, tempo and energy.

Her design credits includes Bryony Kimming's new show I'm A Phoenix, Bitch at Battersea Arts Centre, Crave by Julie Cunningham Company at The Barbican, Maktub, War & War, and Tomorrow I'll Be Twenty for Complicité's Studio Season at The Pleasance, The Tempest (Etcetera Theatre – Offie Nominated for Best Lighting Design 2017). As associate Lighting Designer her work includes the West End transfer of Nine Night at Trafalgar Studios for LD Paule Constable and as assistant lighting designer for Life of Galileo at Young Vic for LD Jon Clark and Shakespeare Trilogy - Henry IV at Donmar Warehouse for LD James Farncombe.
Set Designer Camilla Clarke trained at the Royal Welsh College of Music and Drama, Graduating in 2014 with a first class BA hons degree in Theatre Design. Her recent designs include Beginners at the Unicorn Theatre, Highway One with August 012 & Wales Millennium Centre, Bad Roads at the Royal Court, Frogman for Curious Directive at the Traverse Theatre, Paul Bunyan, The Day After with English National Opera, Wind Resistance at The Royal Lyceum Theatre.

Other designs include: Human Animals for The Royal Court, No Place For A Woman at Theatre 503, Seagulls with Volcano Theatre, Camilla was a winner of the Linbury Prize for Stage Design in 2015. Other Awards include the Lord Williams Prize for Design and The Prince of Wales Design Scholarship.

Lucy is a London based Stage Manager. She trained at the Royal Central School of Speech and Drama, graduating with a BA(Hons) in Stage Management. Her work at Central includes Revolt. She Said. Revolt Again. (Deputy Stage Manager) and she interned on Punchdrunk's Small Wonders. Professional credits include Suffrageddon (Stage Manager) and The House Fairy (Assistant Stage Manager). Lucy is also the co-founder and General Manager of Ondervinden
Emily Aboud is a theatre director born and raised in Trinidad and Tobago. She is an associate artist at the Bush Theatre. Past directing work includes A Place for We (Rich Mix), What we talk about when we (don't) talk about race (Theatre503) and Ma Am I Good? (Leicester Square Theatre). Past work as assistant director includes Deposit (Hampstead Theatre), Child of the Divide (Polka Theatre and UK Tour) and Drums and Colours (British Library). She is the artistic director of lagahoo productions, a company focused on Caribbean new writing, and performs regularly as a drag king.
Sandra Falase is a multidisciplinary artist with firm roots within fine art, installation and live performance design - her formal training was obtained from the University for the Creative Arts.

Previously at the Young Vic as a young production associate, she worked on shows such as The Jungle and Fun Home as well as leading on design for a multisensory installation centring the experiences of LGBTQ Refugees; Something to Declare.

She assisted on the costume for Nine Night at The National and more recently she co-led on the production design for music video 'Crimson Eyes' by Roxanne Tataei. Current projects include the installation design for I'm Home, an exhibition showcasing the work of Black-British women photographers, in addition to the stage design for LITE by Marlene Mckenzie on at the Tristan Bates Theatre at the beginning of November.
Nicola Alexis' stage credits include Harry Potter and the Cursed Child (Palace Theatre), The Merchant of Venice (international tour), To Kill a Mockingbird, Beauty and the Beast (Elgiva Theatre), Clybourne Park (West End), A Midsummer Night's Dream (US tour), Beauty and the Beast, The Lady in the Van (Salisbury Playhouse), Lucky You, The Taming of the Shrew (US tour), Three Sisters (Birmingham Rep), Rookery Nook (Oxford Stage Company), GI Blues (Forest Forge), Bacchai (National Theatre), Macbeth (Orange Tree Theatre), Jitney (National Theatre), One Love (Bristol Old Vic), A Midsummer Night's Dream (Northcott, Exeter), Emma (Tricycle), The Tempest (Edinburgh Festival), Indecent Desires (Lyric, Hammersmith) and Robinson Crusoe.

Nicola's television appearances include Obsession: Dark Desires, Doctors, Eastenders, Emmerdale, Hollyoaks, Summerhill, Commander IV, Desperados, Absolute Power, The Bill, Holby City, Baddiel Syndrome, Happy and Zappy and Dangerfield.
DATES

---

PRESS NIGHT

---

Supporters Night

---

Young People's Night

---

Caption Night

---