06 – 09 July
Gate Guest
Tangle presents: WORKSHOP NEGATIVE
Box office: 020 7229 0706
DATES & TIMES 6th - 9th July, 7:30pm
Thursday 7th July: Post Show Discussion - Theatre and the Freedom of Speech in the Zimbabwe, the UK and beyond.

---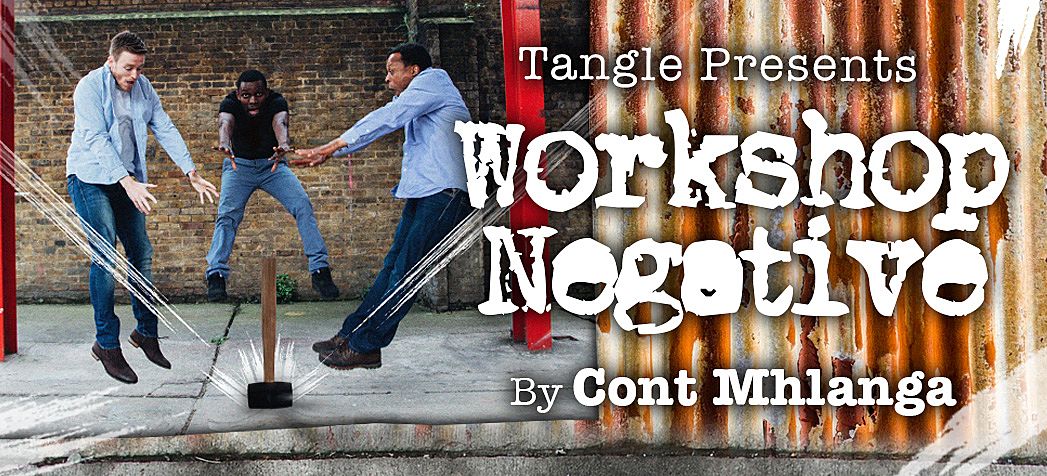 Share this production on Twitter or Facebook!
Tangle presents
WORKSHOP NEGATIVE
By Cont Mhlanga
UK Premiere
The play Mugabe didn't want you to see.
"He's black, you're black, you speak the same language and you fight each other like animals"
Zimbabwe, 1984. Corruption is rife, black people are fighting black people, socialism is being replaced by rampant, vicious capitalism. Nobody is being brave.
Three men represent society in microcosm. Two workers one black and one white, and sworn enemies, are employed in the tool making workshop of an apparently socialist MP.
But is it the MP, mouthing socialism while practicing the most oppressive capitalism, who is actually Zimbabwe's real enemy?
An uplifting and comic response to the backlash of Zimbabwean independence, and as relevant today as it was 30 years ago, WORKSHOP NEGATIVE pulls no punches in airing the issues that everyone was talking about at the time, but were too afraid to raise.
Written by Cont Mhlanga
Directed by Anna Coombs
Designed by Colin Falconer
Approximate running time: 90 minutes
Thursday 7th July: Post Show Discussion - Theatre and the Freedom of Speech in the Zimbabwe, the UK and beyond.
WORKSHOP NEGATIVE is a UK Premiere and a brand new production from
Tangle
, South West England's African Caribbean theatre company.
6th - 9th July, 7:30pm

PREVIEW: 6th July, 7:30pm £10 tickets
MATINEE: 9th July, 3pm

£10 tickets
Jude trained at RADA and has since performed at some of the best theatres in the UK. His credits include Moon on a Rainbow Shawl directed by Michael Buffong for the National Theatre, The Faith Machine directed by Jamie Lloyd for the Royal Court, Great Expectations for the English Touring Theatre, Othello for Glasgow Citizens Theatre, Iya-Ile for Tiata Fahodzi/Soho Theatre, Walking Waterfall at Tiata Delights '08, Almeida Theatre, The Resistable Rise of Arturo Uri at the Lyric Hammersmith, Anthony Nielson's God in Ruins at the Soho Theatre; Macbeth and Macbett (RSC); The Overwhelming, Edmond and Henry V (National Theatre) and Pericles at The Globe. Jude is currently about to start rehearsing for The Crucible at The Bristol Old Vic for the role of Reverend Parris.

On television, Jude recently starred in Channel 4's Cucumber, the UK version of Law & Order, Joe Penhall's Moses Jones and The #1 Ladies Detective Agency (BBC). Other television credits include The Last Detective, Silent Witness, Roger Roger, Land of Dreams, The Bill and Between the Lines. Jude has just finished filming a role in Stan Lee's Lucky Man, as well as a supporting role in Undercover for ITV alongside Sophie Okonedo.

Jude's film credits include Beasts of No Nation, The Tempest, Touched By A Stranger, Whisper the Way of the Child, Sahara and A World Apart.

Jude has also done extensive work for BBC Radio, including a long run in the World Service's Resident President and Westway.
Danilo Antonelli grew up in South Africa in 1987 where he began his career as actor. From 2007-2011 Danilo was part of Disney's The Lion King Company, which toured South Africa and parts of South East Asia in venues such as the Taipei Grand Arena and the Marina Bay Sands, Singapore.

Other career highlights in South Africa include musicals such as Lerner and Loewe's My Fair Lady at (2007) at the Pretoria State Theatre and Sondheim's Sweeny Todd (2014) at the Elizabeth Sneddon Theatre in KwaZulu Natal. For television in 2012 Danilo shot the first season of Sketch you later, a comedy for the South African Broadcasting Corporation, which is still on air in 8 African countries.

Danilo completed a BA from the University of South Africa in 2012.

In 2013 Danilo accepted the Kevin Spacey Foundation Bursary to Study Global Theatre and Performance at Regent's University London. Last year in London Danilo sung as a Tenor Soloist in Operas including La Traviata and The Merry Widow throughout South East England for Kentish Opera, Surrey Opera, Southgate Opera and the Grimeborne Festival at the Arcola Theatre.

Danilo is extremely passionate about African Theatre and culture and is excited to be working on the UK Premier of Cont Mhlanga's play Negative. Danilo is represented by Brown & Mills Entertainment UK.
Trained BA with Chickenshed Theatre(london) and Arts Lab(zimbabwe). Has recently finished a run of I AM THOMAS(National Theatre of Scotland/Told By An Idiot) UK Tour.

Other credits include: BEASTY BABY(theatre-rites/polka theatre), NOW YOU SEE ME(immediate theatre) london tour, NGUVA(simba dans ensemble) norway, WATER BREAD AND SALT/DREAM NATION(tangle international company), THE MAIDS/OEDIPUS(developing artists uk) zimbabwe tour, RIOTS/GLOBALEYES(chickenshed theatre), ALSO BY MAIL(the hat factory), CANT TALK ABOUT THIS(tumbuka dance company) zimbabwe, SHIFT(dance trust zimbabwe), DIARY OF A MADMAN(spear theatre zimbabwe), MUCH ADO ABOUT NOTHING(reps theatre harare), GPA/LOUPE(imidlalo productions) tour, THE COUP/WAITING FOR CONSTITUTION/WEDDING NIGHT (theatre in the park) tour, THE PIRATES OF PENZANCE(Prince Edward Zimbabwe). John is represented by Michelle Braidman and Associates.
Jonathan has been a Combat Teacher, Fight director and historical consultant since 1993. Teaching at top drama programs in London during that time, Jonathan currently teaches combat at The London Academy of Music and Dramatic Art where he has taught for 20 years and The Guildhall School of Music and Drama since 1994 and Rutgers University BA/MA students at The Globe in London since 1998. He also regularly teaches in Italy and Mexico. His work has involved him in television drama, documentary and commercials, for film and for the stage, with over 80 professional credits including work for Cheek By Jowl, The National Theatre, The Chichester Festival Theatre, the English Touring Theatre, Oxford Stage Company/Headlong, The Young Vic, Shakespeare's Globe, including Mark Rylance's Richard III recently on Broadway. Mischief Theatres The Play That Goes Wrong and A Comedy About A Bank Robbery.

Jonathan is a researcher of historical cultures, behaviours and combative practices, following in the footsteps of his father, also a researcher and practitioner, as well as a Fight director and teacher. Jonathan is an archer and has ridden and fought with the weapons and armour of many periods and contributing research to the Royal Armouries Museums and the Mary Rose Trust. His skills and knowledge and lead to him working, lecturing and teaching Historical combat styles across Europe, Japan and the USA and has had his research published.

Sarah has worked in the theatre industry for over 14 years and is currently working with Tangle as well as High Tide (Girls) and the Soho Theatre (Fury). She has also worked with Theatre Royal Bath (Landscapes/Monologues), RSC (Twelfth Night), National Theatre Wales (Dark Philosophers), Wilton's Music Hall (Dick Whittington and his Cat), and Hampton Court Palace (The Rover) amongst many others. Her other work includes organising a music festival (Barnstormer), and working as a Production Coordinator in film (Darling, Hush).
Hansjörg is a lighting designer, working regularly with a group of UK based artists and theatre companies. He is also the Programme Director Lighting Design at Rose Bruford College in London, and his research interests lie in the area of lighting, environment and narrative. Recent lighting designs: The Glass Menagerie (Nuffield), The Red Chair (clod ensemble / touring), Men and Girls Dance and Dusk (fevered sleep / Young Vic Theatre), Stink Foot (The Yard Theatre), Krapp's Last Tape (Sheffield Crucible), Zero (clod ensemble / Sadlers Wells), Above Me The Wide Blue Sky (fevered sleep / Young Vic Theatre). Silver Swan (clod ensemble/Tate Modern). An Anatomy in Four Quarters (clod ensemble/Sadlers Wells Theatre). On Ageing (fevered sleep/Young Vic Theatre), Kursk (Sound & Fury/Young Vic), The Forest (fevered sleep), Under Glass and Red Ladies (Clod Ensemble). Also with David Harradine: Stilled, and Camera Obscura. Other recent projects: Kew Kitchens, an architectural installation at Kew Palace. The Beautiful Octopus Club, for Heart 'n' Soul and the South Bank Centre. And shows for Jessica Ogden and Mika Fukkai at London Fashion Week.
Drew trained at Bristol Old Vic Theatre School. His previous sound designs include: Miss Nightingale: Uk Tour 2015 (Mr Bugg Presents) Sweet Charity (New Wolsey Theatre) The Dissidents (The Tricycle Theatre) Mary Shelley (Shared Experience) A Season in the Congo: Parallel Production (Young Vic) The Kite Runner: UK Tour (UK Productions) The Threepenny Opera (Graeae) Here We Stay, Unforgettable (New Perspectives) Jack and the Beanstalk (Theatre Royal Bury St. Edmunds) Sleeping Beauty (CAST Doncaster)Time and The Conways, My Judy Garland Life, Richard III, The Kite Runner, Of Mice and Men, The Importance of Being Earnest, Grandpa in my Pocket: Teamwork, Umbrellas, Private Lives, Amy's View, Twelfth Night, The Families of Lockerbie, A Day in the Death of Joe Egg, Forever Young, Blithe Spirit, Glamour, Vertigo, Tom's Midnight Garden, Beast on the Moon and Aladdin (Nottingham Playhouse Theatre Company); Dust, Dreamtime (Derby Theatre) The Crossing (New Art Exchange); The Grandfathers (LYTX); The Trial, Blood Wedding, The Visit, Find Me and Down in the Dumps (Nottingham Playhouse Youth Theatre); West Side Story (Nottingham Operatic Society) The Wiz, Séance on a Sunday Afternoon, Empty Bed Blues and Smile (Lakeside Arts Centre); Thoroughly Modern Millie, Crazy for you, Peter Pan (Carlton Operatic Society); and as Associate Sound Designer, Summer and Smoke (Apollo Theatre, London).

Colin studied Interior and Environmental Design at Duncan of Jordanstone College of Art and Design and Theatre Design at Nottingham Trent University

He has designed productions of Travels with My Aunt (Chichester); Urinetown (Arts Ed); The Three Lions (St James Theatre); The Realness (The Big House); Rumpelstiltskin (Theatre Royal Bath/MAC Belfast); Travels With My Aunt (Menier Chocolate Factory); Blue/Orange(Theatre Royal Brighton/Tour); The Other School (St James Theatre); There We Have Been/Everything and Nothing (Sadlers Wells); The Importance of Being Earnest, Travesties (Birmingham Rep); Mummyji Presents, Happy Birthday Sunita (Rifco/Watford Palace Theatre); Mustafa (Kali Theatre Company/Birmingham Rep/Soho Theatre); The Constant Wife, The Picture, Private Lives, The Winslow Boy, Restoration, Northanger Abbey (Salisbury Playhouse); The Rime of the Ancient Mariner (Southbank Centre); Barabas (Hall for Cornwall); The Graft (Theatre Royal Stratford East); Blithe Spirit (Watford Palace Theatre); Plunder (Watermill Theatre/Greenwich Theatre); Outlying Islands (Theatre Royal Bath); The House of Bernarda Alba, Siwan, The Misanthrope, Endgame, Dominos (Theatr Genedlaethol Cymru); Anansi Trades Places (Talawa); Romeo and Juliet, Three Sisters (Chichester Festival Theatre); The Merchant of Venice (Royal Shakespeare Company); The Misanthrope, The Secret Rapture, Hysteria (Minerva Theatre, Chichester); The Blue Room (Theatre Royal Haymarket); Acis and Galatea, Dido and Aeneas, Hansel und Gretel (RSAMD, Glasgow); Aladdin (Costumes, Scottish Ballet); Twelfth Night (Liverpool Playhouse).

Anna Coombs has worked in London's West End, at Dublin's Abbey Theatre, with Peter Cheeseman at The New Vic, Stoke on Trent, at The Marlowe Theatre Canterbury and at The Oxford Playhouse. At Hall for Cornwall, Truro, she developed its producing, education and new writing programmes and directed Marlowe's The Jew Of Malta with Joseph Mydell as Barabas – the first black actor to play a Marlowe protagonist in the UK. At HfC she produced RESPONSES (2007) ten original new plays in response to the English Renaissance, bricks & mortar (2008) with 40 African and European artists and Beach Combing (2009), 3 new plays at London's Theatre503, and directed a number of new plays including BLOOD and Glass Heart by Victoria Field, Highfliers by Henry Darke and the first UK revival of Never Say Rabbit In A Boat by her friend and long time collaborator, the Cornishman Nick Darke, who died in 2005. This production was her tribute to Nick.

In May 2010 Anna took up an attachment at The National Theatre Studio, followed by a spell as resident director at NITRO. In 2011 she returned to The NT to direct Koa Odour Antony's play Makmende Vies for President, in English, Sheng and Swahili, for The National Theatre African Playwriting Project. She has directed all of Tangle's productions, most recently The Crossing (2012). She is a freelance casting director, specialising in African - Caribbean casting, a Research Associate in African Theatre at SOAS, University of London, and a Panellist for Yinka Shonibare MBE (RA)'s Guest Projects Africa.
Cont Mhlanga was born in Bulawayo, Zimbabwe in 1958. He is the, recently retired, Artistic Director of Amakhosi Theatre, which is now Bulawayo's oldest and most successful theatre company. His multiple award winning productions have toured locally and internationally. He has been described as "a product of urban township life", in contrast to many other African playwrights who hail from the elite classes.

Mhlanga's first plays – Children Children (1983), Book of Lies (1983) and Diamond Warriors (1983) – were performed in English. Their themes were political – about colonisation, the theft of Africa's cultural heritage and its natural wealth. Citizen Mind, produced in 1986, urged a revitalisation of Zimbabwean traditional cultures, arguing that they should be the basis for future development. Cry-Isilio (1987/88) dealt with the capitalist system and its perpetual repression of workers, as well as sexual harassment of under-privileged women. Stitsha (1990) dealt with many serious issues of crime, unemployment, corruption, and the suppression of women. The play was taken on a European tour in 1990. Many more tours followed.

Mhlanga has won several awards for his work, including the Freedom to Create Prize in 2008, for practising protest theatre and challenging state ideologies in Zimbabwe for over 25 years. He has been the target of state surveillance, intimidation, harassment, arrest and detention for many years.
06 – 09 July
Gate Guest
Tangle presents: WORKSHOP NEGATIVE
Box office: 020 7229 0706
DATES & TIMES 6th - 9th July, 7:30pm
Thursday 7th July: Post Show Discussion - Theatre and the Freedom of Speech in the Zimbabwe, the UK and beyond.

---