14 – 18 October
Wild Thing I Love You
Wild Thing I Love You
Box office: 020 7229 0706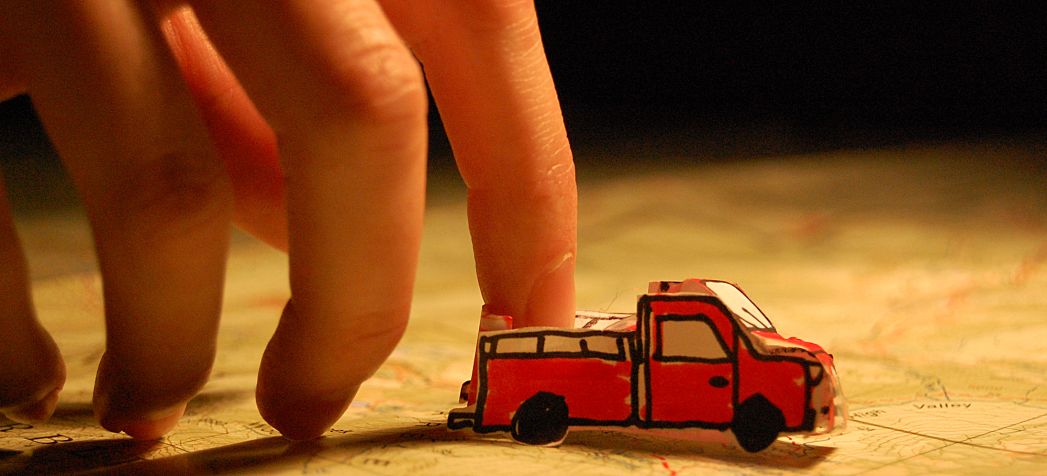 Share this production on Twitter or Facebook!
WILD THING I LOVE YOU
Ella Good & Nicki Kent
In September 2011, we took a trip across America to see if Bigfoot is out there. We'd like to tell you about it.
Held in an intimate tent for a limited audience, Ella good and Nick Kent present a new performance that examines their experiences of searching for a legendary mythical creature in rural America. Using recordings of conversations from people they met on the way, film, animation and live performance, you are invited to cross into a world where the wild and unknown can exist. A delicate exploration of the things we cannot see, the spaces they might exist in, and our desire to believe.
Ella Good and Nicki Kent are Bristol based artists who collaborate to make live art and performance, They both graduated from Dartington College of Arts in 2007 and have been working together since. their work is often inspired by meeting people and creating space and opportunity for conversation and exchange. They have created a range of work, from devised studio performance, to interactive one-on-one experiences, to work for large festival contexts. They have shown work at a variety of venues and festivals throughout the UK, including Bristol Old Vic, Mayfest, Forest Fringe, Warwick Arts Centre, Shunt and The Nightingale, Both are also members of Residence, an artist-led community making space for artists to make theatre and live art in Bristol.
14 – 18 October
Wild Thing I Love You
Wild Thing I Love You
Box office: 020 7229 0706