Press night

---

Young People's Night

£7.50 tickets for Under 26's
Friday 29 September

---

Caption Night

Performance and post-show talk is captioned
suited for those who are deaf/hard-of-hearing
or use English as a second language

Thursday 5 October

---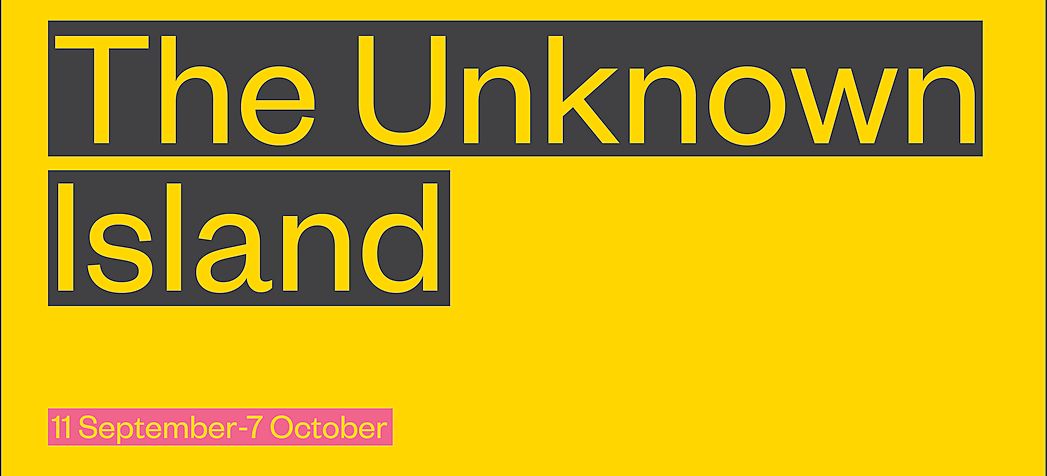 Share this production on Twitter or Facebook!
We want to tell you a story
We want to take you on a journey
We want everything to be different

This is an adaptation of José Saramago's inventive and beautiful short story, The Tale of The Unknown Island. It's a story about getting stuck, about trying to escape, about shooting for the moon, about going further than the furthest thing. It's a story about finding something you didn't think you needed.


11 September – 7 October
Kiera Coward-Deyell is a musician and community worker keen to explore collaborative approaches to sound design. Her recent projects have included building a sound system with young people, facilitating free dj workshops for women and non-binary people and creating a sound archive of Scottish waterfalls. She djs & produces music under various aliases.
Camilla Direk is a freelance stage manager and has spent the past three years working at ChickenShed Theatre as their Assistant Stage Manager and active member of their production team.

As Deputy Stage Manager DSM her credits include In the Absence of Silence and KinderTransport (Chickenshed) where she acted as DSM cover.

As Assistant Stage Manager her credits include: Dreams of Freedom, Peter Pan, The Twelve Days of Christmas and An Adventure to Oz (ChickenShed).

Whilst working at Chickenshed, she has also stage managed a number of Gala events for the company most notably at the London Guild Hall and the V&A. Camilla is keen to further her professional experience in stage management and theatre production.
Rosie Elnile studied Design for The Stage at the Royal Central School of Speech and Drama. She was the first Resident Design Assistant at The Donmar Warehouse from 2015 until 2016.

As Designer, her theatre credits include: Big Guns (The Yard Theatre), The Convert (Gate Theatre), Macbeth (Mountview Academy of Theatre), Hard C*ck (Spill Festival), The Half Of It (RADA Festival) and Loaded (Jacksons Lane Theatre).

As Assistant Designer, other theatre credits include: Elegy (Donmar Warehouse), Jesus Christ Super Star (Regents Park Open Air Theatre), The Barber Of Seville Design (Opera North).
Jon Foster's previous work for the Gate Theatre includes Idomeneus, Trojan Women, Dream Story, Tenet and Mud. His other theatre credits include Othello (Shakespeare's Globe), F*ck The Polar Bears (Bush Theatre), Buckets (Orange Tree Theatre), A New Way To Please You, Sejanus: His Fall, Speaking Like Magpies, Thomas More (RSC), Food (Traverse Theatre) and Long Time Dead (Paines Plough). His television work includes Fortitude, Da Vinci's Demons, The Great Fire, Rev, Southcliffe, The Town, The IT Crowd and Mrs Biggs; and for film, Nice Guy and Tides.
Josh mainly works in the medium of sound, but also includes other new media practices as well as arts facilitation ideas into his projects.

He has designed and performed sound in many spaces in London including the National Theatre, Jermyn Street Theatre and Yard Theatre as well as creating and performing sound in festivals across Europe under a variety of names.

Sam House studied Lighting Design and Production Electrics at the Royal Academy of Dramatic Art Graduating in 2015.

As Production Electrician his theatre credits include: An American in Paris Press Launch (Waldorf Hotel), La Ronde (Bunker Theatre), As You Like It (Vanbrugh Theatre).

As Lighting Designer his theatre credits include: Scouse: A Comedy of Terrors (Grand Central Hall, Liverpool), Vocal Faculty Scenes (Royal Academy of Music) and The Bright and Bold Design (George Bernard Shaw Theatre).
Ellen McDougall is Artistic Director at the Gate Theatre. She previously directed Idomeneus for the Gate in 2014. Her credits include a critically acclaimed production of Othello at the Sam Wanamaker Playhouse at the Globe, the Lyric's annual pantomime – Aladdin by Joel Horwood (2016) and Cinderella by Tom Wells (2015), The Rolling Stone (Orange Tree Theatre and Manchester Royal Exchange), The Remains of Maisie Duggan (Abbey Theatre, Dublin), The Glass Menagerie (Headlong), Anna Karenina (Manchester Royal Exchange), Henry the Fifth, Not Now Bernard, The Nutcracker, Antigone and Philoctetes (Unicorn Theatre); Glitterland (Secret Theatre/Lyric Hammersmith) and Ivan and the Dogs (Actors Touring Company/Soho Theatre).

McDougall was formerly part of the Secret Theatre Company at the Lyric Hammersmith, Associate Director at the Gate, and an Associate Artist at ATC. She trained as an assistant to Katie Mitchell and Marianne Elliott and was Director in Residence at the NT Studio. She was awarded an International Artists' Development Award (ACE/British Council) in 2012; she was the runner up in the JMK Award 2008 and directed A Kind of Alaska at BAC. Her production of Ivan and the Dogs (Actors Touring Company/Soho Theatre) was nominated for an Olivier Award 2011.

More information including press: http://theagency.co.uk/the-clients/ellen-mcdougall/
Lizzie Powell is a lighting designer in theatre.

As a Lighting Designer her credits include: The Country Girls (Chichester Festival); The Mountaintop (Young Vic); Out of This World (Dance Touring Partnership); Frankenstein/Hedda Gabler (Northern Stage); Glasgow Girls (National Theatre of Scotland/UK Tour); Our Ladies of Perpetual Succour (Duke of Yorks Theatre, NTS Tour); Human Animals, Violence and Son (Royal Court); Endgame, The Choir, Fever Dream: Southside, The Libertine, Far Away/Seagulls, Krapp's Last Tape/Footfalls (Citizens); The Brink (Orange Tree); Fruit Trilogy (West Yorkshire Playhouse): Romeo and Juliet (Sheffield Crucible); The Mighty Walzer, Anna Karenina (Royal Exchange, Manchester); Secret Theatre (Lyric, Hammersmith/Tour); Adam, In A Time O' Strife, My Shrinking Life, The Enquirer, An Appointment with the Wickerman, Knives in Hens, Girl X, Mary Queen of Scots Got Her Head Chopped Off, Venus as a Boy (National Theatre of Scotland); Idomeneus (Gate Theatre).
Khadija Raza is a set and costume designer who has recently graduated from the Royal Central School of Speech and Drama, working in theatre, opera and site-specific performances.

Previously, she has assisted designers such as Annemarie Woods on L'heure Espagnole and Gianni Schicchi (Opera Nationale de Lorraine), James Cotteril for the British Youth Opera on English Eccentrics and Owen Wingrave (Peacock Theatre), and worked with Geraldine Pilgrim on her immersive, promenade piece, Well (Sanofi Factory, Dagenham). Recently, Khadija was associate designer to Diego Pitarch on The Empress by Tanika Gupta (Embassy Theatre).

Hannah Ringham is a co-founder and performer of the UK award winning performance collective SHUNT. Her recent theatre credits include Islands (Bush Theatre), The Architects (Shunt), The Present (Unicorn Theatre, Battersea Arts Centre), Cadavre Exquis (2012), Contain Violence – Site Specific (Lyric Hammersmith), Ooogly Boogly (2008), Tropicana (Shunt). She has performed and toured internationally with many other companies including Tim Crouch, Kassys (a collaborative performance with Kassys, The Nature Theatre of Oklahoma and Nicole Beutler), Caroline Horton, Adam Broomberg and Oliver Chanarin.
José Saramago is a writer and winner of the Nobel Prize in Literature in 1998. His plays include The Night, What shall I do with this book? and The Second Life of Francis of Assisi. Other writing includes Possible Poems, Probably Joy, From this World and the Other, The Traveller's Baggage, The Year of 1993, Risen from the Ground, Quasi Object, Baltazar and Blimunda, The Year of the Death of Ricardo Reis, The Stone Raft, The History of the Siege of Lisbon, The Gospel According to Jesus Christ, In Nomine Dei, Blindness and All the Names. He has also translated works by authors including Colette, Pär Lagerkvist, Jean Cassou, Maupassant, André Bonnard, Tolstoi, Baudelaire, Étienne Balibar, Nikos Poulantzas, Henri Focillon, Jacques Roumain, Hegel and Raymond Bayer.
Clare Slater is the Literary Manager at the Donmar Warehouse, dramaturgically supporting all of the plays on the Donmar's stage, with recent productions including Limehouse by Steve Waters and The Resistible Rise Of Arturo Ui by Bertolt Brecht in a new adaptation by Bruce Norris. She previously worked as Executive Director at the Gate.

She is also a freelance adaptor and dramaturg and her recent freelance credits include Idomeneus, Here's How It All Began (Gate Theatre), The Last Mermaid, Man To Man (Wales Millennium Centre), Lotty's War (UK tour), We Have Fallen (Theatre 503/Underbelly). She previously worked as the Assistant Literary Manager at the National Theatre and in TV and film development with Rare Day.
Thalissa Teixera's theatre work includes Othello, The Broken Heart, The Changeling (Shakespeare's Globe), Yerma (Young Vic), The Night Watch (Manchester Royal Exchange), BU21 (Theatre503), Electra (Old Vic). Her television work includes The Musketeers; and for film, Take Down.
Zubin Varla's theatre work includes War Horse, The Enchantment, Attempts on Her Life, The Life of Galileo and Cyrano de Bergerac and Dara (National Theatre), Julius Caesar (Lyric Hammersmith), Troilus and Cressida, Two Gentlemen of Verona, Midnight's Children, The Tempest, Roberto Zucco, Bartholomew Fair, Faust, The Painter of Dishonour and Romeo & Juliet (RSC), Twelfth Night (Donmar Warehouse in the West End), Paradise Regained (Royal Court), In the Heart of America (Bush Theatre), Teeth 'n' Smiles (Sheffield Theatres), A Midsummer Night's Dream (Shakespeare's Globe), Jesus Christ Superstar and Beautiful Thing (West End), Measure for Measure, The Changeling (Young Vic). His television work includes Deep State, Will, Our Girl, Strike Back, Silent Witness, Twelfth Night and Little Dorritt.
Press night

---

Young People's Night

£7.50 tickets for Under 26's
Friday 29 September

---

Caption Night

Performance and post-show talk is captioned
suited for those who are deaf/hard-of-hearing
or use English as a second language

Thursday 5 October

---