27 February – 23 March
The Ridiculous Darkness
The Ridiculous Darkness
Box office: 020 7229 0706
DATES

---

Press Night

---

Young People's Night

---

Supporters Night

---

Caption Night

---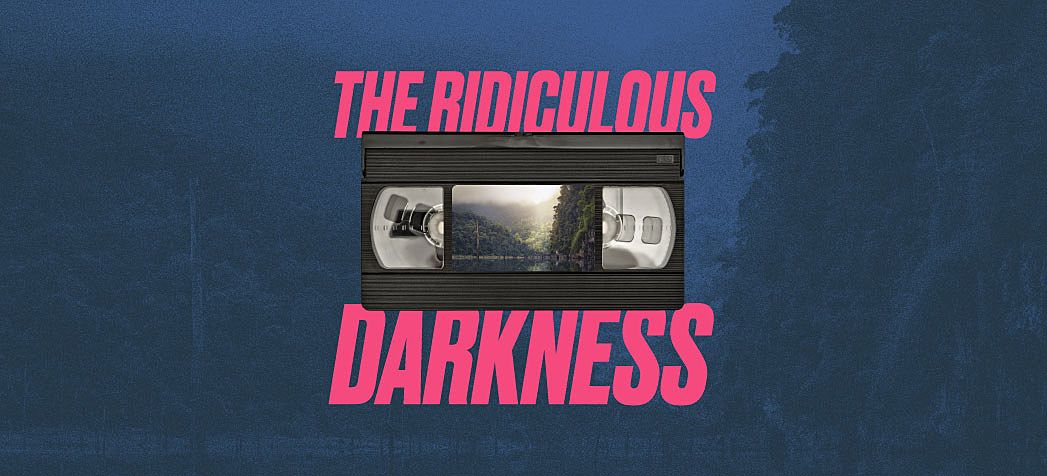 Share this production on Twitter or Facebook!
Critically acclaimed dark comedy The Ridiculous Darkness, by award winning German playwright Wolfram Lotz, is a surreal, hilarious and powerful response to Heart of Darkness and Apocalypse Now that invites us to rethink colonial narratives, confront our ideas of each other and question what we imagine is in the darkness.

Four black femmes. Three revered White Male Writers. Two classic works. A radical deconstruction.

"I have a right to appear here. Otherwise, who will listen to me? Where should I talk about myself, if not here?"

Ultimo has a degree in piracy from Mogadishu University of Applied Sciences. Tofdau won't rest until his story's told. Sergeant Pellner and Officer Dorsch are sailing up the Hindu Kush in search of Lieutenant Colonel Deutinger in the rainforest of Afghanistan. And at his parents' home in Bad Rippoldsau, Wolfram Lotz is experiencing writer's block.

This production is conceived and directed by the Gate Theatre's Associate Director, Anthony Simpson-Pike.

27 February – 23 March
Press Night: 5 March
Young People's Night: 8 March
Supporters Night: 14 March
Caption Night: 19 March

Evening performances: 7.30pm
Matinees: 3pm

Young People's Night is supported by Douglas & Gordon.
Haylin Cai is a theatre director and actress. She graduated from East 15 Acting School with a Theatre Directing MA degree in 2017, after finishing her BS Psychology degree in China. She recently acted in Lost and Found and Nature's Revenge. She also worked as an assistant director for Andorra and Na, a dramaturg and assistant producer for The Beautiful Game. She also choreographs, plays the cello and writes theatre reviews.
Elisa is a designer, artist and horticulturalist, working in live art, dance, music, installation and theatre. She trained in performance practice and design at Central Saint Martins. She is interested in challenging the boundaries around art and performance and is just about to embark on residency in Berlin with choreographer Jessica Nina Barlow. She is also a regular collaborator with RashDash.
Seke Chimutengwende works in dance as a performer, choreographer and teacher. He has performed for companies such as DV8 Physical Theatre and Lost Dog and has performed and taught improvisation internationally since 2006. He has choreographed four works for his company Seke Chimutengwende & Friends and has recently collaborated with Alexandrina Hemsley on duet Black Holes which premiered at The Place in June, 2018. His new solo Plastic Soul, premiered at The Yard Theatre in January 2019.
Nina Segal is a playwright and dramaturg. Her plays include: In the Night Time (Before the Sun Rises) (Gate Theatre; Teatro Belli, Rome; Atlantic Amplified Series, NYC; Orange Tree Theatre), Big Guns (Yard Theatre), Danger Signals (New Ohio, NYC), There Is No Threat (Yard Theatre, Live Drafts), and Dismantle This Room (Bush Theatre; Royal Court). Plays in development include: Extended Universe (Boundless Theatre), and The History of Love (David Luff Productions).
Shannon graduated from Guildhall School of Music and Drama specialising in Stage and Costume Management. She has worked in theatre, opera, tv and film and is also ASM Dep on Thriller Live in the West End.
Upcoming productions: Dismantle this Room (Royal Court Theatre, London), American Dream (Young Vic Theatre, London) and Ivan and the Dogs (Young Vic, London)
Productions worked on: Othello (Dubai Opera House, Dubai), Fierce Sisters (New Place, Stratford-upon Avon), Othello (UK Tour), Annie (Belgrade Theatre, Coventry), MA Collaborative Project (Frantic Assembly), Napoleon Disrobed (UK Tour), A Christmas Tale (Kenton Theatre, Henley-on-Thames), Frau Welt (Hackney Showroom, London), Mumburger (Old Red Lion Theatre, London), The Ugly One (Park Theatre, London), The Diary of a Teenage Girl (Southwark Playhouse, London), Go Between (Taking Part Project, Young Vic Theatre, London), The Mountaintop (Young Vic Theatre, London), La Traviata (West Green House Opera, Hampshire), How Lion Became King of Tinga Tinga Land (UK Tour), 42nd Street (Belgrade Theatre, Coventry), Hamlet (Rose Playhouse, London), Love Labours Lost (Rosemary Branch Theatre, London), Dead Sheep (Park Theatre, London), The Ballad of Rudy (UK Tour), Rachel (Finborough Theatre, London), West End Eurovision (Dominion Theatre, London), Big Noise Festival (Peckham Rye, London) Sweeney Todd: The Demon Barber of Fleet Street (Longborough Festival Opera).
TV includes:
Downton Abbey (Ealing Studios, London)
Film includes:
The Take (Bastille Day)- Feature film and The Infiltrator- Feature film
www.linkedin.com/in/shannon-martin-0b4
Shannon wants to thank everyone at The Gate Theatre for having her on this production.
Theatre includes: The Wolves (Theatre Royal Stratford East); The Mysteries (Manchester Royal Exchange); Three Sisters Theatre (Manchester Royal Exchange/The Yard Theatre); Abandon (Lyric Hammersmith); Returning to Haifa (Finborough);Goats, Prime Time (Royal Court); Unknown Island, The Convert (Gate Theatre); BIG GUNS (The Yard Theatre). Awards include: Stage Debut Award for Best Designer. Rosie is an Associate Artist at Gate Theatre and Boundless Theatre.
Travis Alabanza is a performer and writer based in London. Their theatre credits include Putting Words in Your Mouth (Roundhouse), Jubilee (royal exchange, Lyric Hammersmith) and recently a sold-out, critically acclaimed run of their own show Burgerz (Hackney Showroom, Oval House, Royal Exchange). Outside of theatre, their writing and activism surrounding LGBTQ+ rights has appeared in Vogue, BBC, Huffington Post, The Guardian, Independent, and they have given talks at over 120 international institutions including The Tate, V&A, Harvard University, and Royal Academy of art.

Theatre includes The Way of the World (Donmar); The Children (Royal Court/Broadway); Dry Powder, Sex with Strangers, Labyrinth (Hampstead); Ophelias Zimmer (Schaubühne, Berlin/Royal Court); Hogarth's Progress (Rose, Kingston); Macbeth (Tobacco Factory); Humble Boy, Blue/Heart, The Distance (Orange Tree, Richmond); Miss Julie (Theatre by the Lake/Jermyn Street); The Gaul (Hull Truck); Cookies (Theatre Royal Haymarket); Jane Wenham (Out of Joint); Waiting for Godot (Sheffield Crucible); My Eyes Went Dark (Traverse & 59E59, New York); A Kettle of Fish (Yard); CommonWealth (Almeida); Creve Coeur (Print Room); Cuzco, Wink (Theatre503); Spamalot, The Glass Menagerie (English Theatre, Frankfurt); The Cardinal, Kiki's Delivery Service (Southwark Playhouse); Mrs Lowry and Son (Trafalgar Studios); Martine, Black Jesus, Somersaults (Finborough); The Habit of Art, Monogamy, Teddy, Toast, Fabric, Invincible (National Tours).

Opera includes Miranda (Opéra Comique, Paris); Scraww (Trebah Gardens); Vixen (Vaults/International Tour); Carmen:Remastered (ROH/Barbican).

Radio includes Home Front (BBC Radio 4). Associate Artist of The Faction and Silent Opera.
Anthony is a theatre-maker and dramaturg whose directing credits include Over to You (Tamasha Theatre/Rich Mix), Dreamless Sleep (Bunker), Loyalty and Dissent (Tamasha Theatre/Rich Mix/ National Archives), Welcome to England (Young Court, Royal Court), Detox (Artistic Directors of the Future), Pandora (Peckham Pelican/Zedel/New River Studios), Coma (Southwark Playhouse), Something to Say (St James Theatre), Plunder (Fresh Direction, Young Vic), Camp (Etcetera Theatre/Bussey Building), One for the Road and New World Order (Site- specific).
His credits as assistant director include Ear for Eye directed by debbie tucker green (Royal Court), Much Ado About Nothing directed by Matthew Dunster (Shakespeare's Globe), Father Comes Home from the Wars, Parts 1, 2 and 3 directed by Jo Bonney (Royal Court), and Parallel Macbeth directed by Caroline Byrne (Young Vic). Anthony trained at National Youth Theatre, Royal Central School of Speech and Drama and through the Young Vic Director's Program. He was a finalist for the JMK award in 2017. Anthony is the Associate Director at the Gate Theatre.
Wolfram Lotz, born in Hamburg in 1981, grew up in the Black Forest. He studied Literature, Fine Arts and Media in Konstanz before enrolling for Literary Writing at the German Literature Institute in Leipzig. He writes theatre and radio plays, poetry and prose and has already been the recipient of numerous awards including the Audience Prize of the play competition at the Berlin Theatertreffen 2010 as well as the Kleist Foerderpreis 2011 for Der Grosse Marsch. The original Burgtheater production of The Ridiculous Darkness (Die Laecherliche Finsternis) was invited to Theatertreffen Berlin as well as Muehlheimer Theatertage in 2015. Theatre Heute Magazine named him as 'Emerging Playwright of the year' in 2011 and 'Dramatist of the Year' in 2105.
Theatre credits include:
The Wolves (Theatre Royal Stratford East), Leave Taking (Bush Theatre), Parliament Square (Royal Exchange/ Bush Theatre), Pigeon English (National Youth Theatre), Romeo and Juliet (National Youth Theatre), DNA (National Youth Theatre), Cosmic Jives (Albany Theatre), Black Attack (Bush Theatre), My Beautiful City (Arcola Theatre), Jack and the Beanstalk (Lyric Hammersmith), Ondisting (Ovalhouse Theatre), Romeo and Juliet Et Al (Ovalhouse Theatre), Skeen (Ovalhouse Theatre).
Television credits include:
Munch (Big Talk), Top Boy (Cowboy Films), Eastenders (BBC), Casualty (BBC), Game Face (Objective Productions), Live at the Electric (Avalon Television).
Shannon Hayes
Theatre credits include:
Constellations (Experimental Theatre Club), As We Forgive Those (Oxford), 4.48 Psychosis (Identity), Other Hands (Identity), His Dark Materials Part 2 (Peculiar Spectacles.
Film and Television include:
Totally Maisy (Madhen Productions), What You Gonna Do? (Orb Films), Locked (Met Film School), Tyger Tyger (Met Film School), Years & Years (BBC 1), Cold Feet (ITV), Kiss Me First (E4), Vera Series 7 (ITV), Undercover (BBC).
Rochelle is a London based Actor and Singer.

Theatre credits include: The Mountaintop (UK Tour/ Desara Productions); Cinderella, Aladdin (Oxford Playhouse); The Winter's Tale (The Orange Tree Theatre); Shipwrecked! The Amazing Adventures of Louis de Rougemont (The Jack Studio Theatre); Jack & the Beanstalk (Lyric Hammersmith); One Monkey Don't Stop No Show (Eclipse Theatre Company/Kiln Theatre).

Television credits include: Lawful Killing (BBC One); #Hood Documentary (BBC Three/Fudge Park Productions).

Short film credits include: Pipe Up (Company of Angels).
Joshua works as a Lighting and Projection Designer across theatre, dance, opera, music, film & art installation. Most recently Joshua has won two awards at the Theatre and Technology Awards 2018; Creative Innovation in Lighting Design for THE CLAIM at Shoreditch Town Hall and Creative Innovation in Video Projection Design for THE SHAPE OF THE PAIN at Battersea Arts Centre. He was nominated for Knight of Illumination Award 2017 for his work on REMOVAL MEN.

Current and forthcoming projects include: NOUGHTS & CROSSES (UK Tour); VASSA (Almeida); COUNTING SHEEP (Wild Yak) and GOING THROUGH (Bush).

Recent credits include: THE WOLVES (Stratford East); O T H E L L O M A C B E T H (Lyric Hammersmith; HOME Manchester); FUTURE BODIES (HOME Manchester); 100: UNEARTH (Wildworks); NANJING (Sam Wanamaker Playhouse); DOUBLE VISION (Wales Millenium Centre); RANDOM/GENERATIONS (Chichester Festival Theatre); TRUST (Gate Theatre); THE SHAPE OF THE PAIN (China Plate Theatre; Fringe First Winner, BAC); HEARTY (Yard Theatre); THE CLAIM (UK Tour); LA TRAGÉDIE DE CARMEN (Royal Opera House, Wilton's Music Hall)
27 February – 23 March
The Ridiculous Darkness
The Ridiculous Darkness
Box office: 020 7229 0706
DATES

---

Press Night

---

Young People's Night

---

Supporters Night

---

Caption Night

---