03 – 07 April
NEW: 2018
NEW: 2018
Box office: 020 7229 0706
Dates and Times
Tuesday 3 - Saturday 7 April

---

REALITY

Wed 4 April 1pm
Thurs 5 April 8pm
Fri 6 April 6pm

---

SPILT

Tues 3 April 8pm
Wed 4 April 6pm
Fri 6 April 1pm

---

BUDDY

Tues 3 April 6pm
Thurs 5 April 1pm
Fri 6 April 8pm

---

ALBATROSS

Wed 4 April 8pm
Thurs 5 April 6pm
Sat 7 April 1pm

---

Word of Mouth Performance

---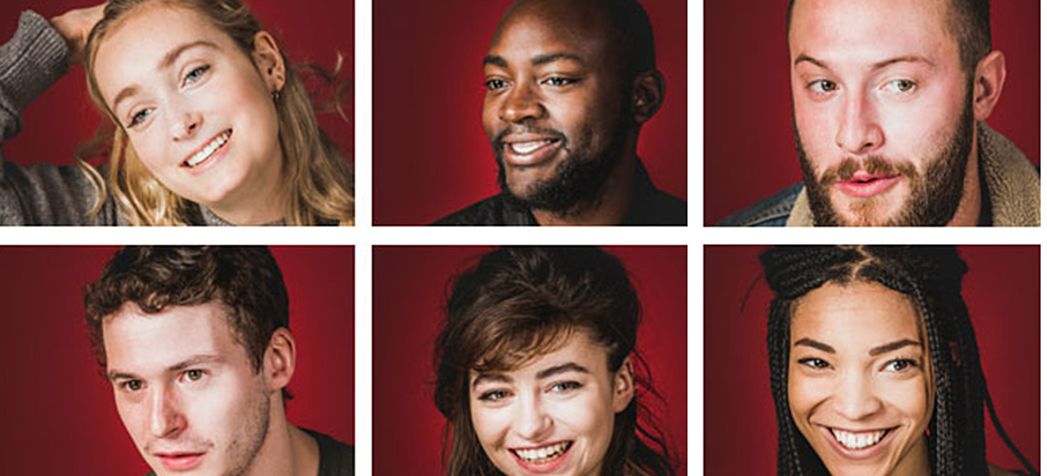 Share this production on Twitter or Facebook!
NEW is the Royal Welsh College's weeklong showcase of new writing, which returns in 2018 for a fifth exciting year. The College's Richard Burton Company will premier four new plays in Cardiff before transferring to London's Gate Theatre.

We would like to thank the following Trusts and Foundations for their support of NEW: 2018:

The Richard Carne Trust
The Fenton Arts Trust
Spielman Charitable Trust
Peter and Janet Swinburn

SHOWS
REALITY
Written by Stuart Slade
Directed by Grace Gummer
In collaboration with the Royal Court Theatre
Somewhere in a basement, seven reality TV stars are preparing to be voted off by the public. Or to die. It's one of the two.
A play about the stories we tell ourselves to stay sane, the nature of hope, and the ties that bind us to others. Literally.

Running time: approx 1 hour.

SPILT
Written by Charley Miles
Directed by Rania Jumaily
In collaboration with the Royal Court Theatre
Everyone is telling Maria that this should be the happiest time of her life, but she's got a problem. It's not that's she's pregnant; it's that her washing machine keeps exploding and causing massive ruptures in time, space and her physical reality. SPILT is a surreal play about choices, relationships and what might happen if you could split yourself in three.

Running time: just under 1 hour.

BUDDY
Written by Katherine Chandler
Directed by David Mercatali
In collaboration with Sherman Theatre
One ordinary night changes A's life forever. One extraordinary decision sends her friends lives into chaos. One beloved Dog is at the heart of it all. Buddy.

Running time: approx 1 hour.

ALBATROSS
Written by Isley Lynn
Directed by Anna Himali Howard
In collaboration with Paines Plough

Tattoos are forever. Almost. And at Noodle Soup Tattoo there are strict rules: No names unless they're dead. Nothing on the face. Nothing you might get sued for later.

When Jodie, a rough sleeper, asks for a free tattoo from apprentice Kit, her request is well within the guidelines. But Kit is still unsure, because they know only too well that getting inked isn't the only decision that stays with you for the rest of your life.

Albatross is a small but sweeping story about the past refusing to stay in the past.

Running time: approx 1 hour 15 mins

Word of Mouth Performance
Sat 7 April 6pm
Another performance of one of the shows chosen by public demand.




Tuesday 2 - Friday 5 April

We would like to thank the following Trusts and Foundations for their support of NEW: 2018:

The Richard Carne Trust
The Fenton Arts Trust
Spielman Charitable Trust
Peter and Janet Swinburn
03 – 07 April
NEW: 2018
NEW: 2018
Box office: 020 7229 0706
Dates and Times
Tuesday 3 - Saturday 7 April

---

REALITY

Wed 4 April 1pm
Thurs 5 April 8pm
Fri 6 April 6pm

---

SPILT

Tues 3 April 8pm
Wed 4 April 6pm
Fri 6 April 1pm

---

BUDDY

Tues 3 April 6pm
Thurs 5 April 1pm
Fri 6 April 8pm

---

ALBATROSS

Wed 4 April 8pm
Thurs 5 April 6pm
Sat 7 April 1pm

---

Word of Mouth Performance

---