Dates and Times
Monday 8 July - 7pm Tuesday 9 July - 7pm Wednesday 10 July - 7pm

Arabic with English Surtitles

---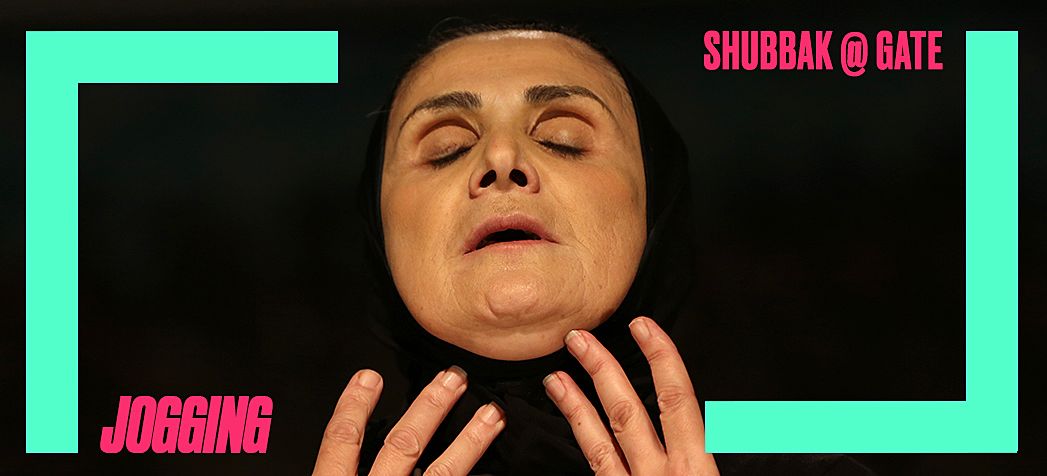 Share this production on Twitter or Facebook!
Fifty-something Lebanese performer Hanane Hajj Ali jogs every day to avoid osteoporosis, obesity and depression. Her route takes her through her own personal spaces of Beirut, revisiting roles, characters, desires, aspirations and disappointments along the way. The exercise brings her body a rush of adrenalin and dopamine; alternating destructive and constructive effects, mirroring an ever-changing city that destroys to build and builds to destroy. Alone on a bare stage, Hanane – woman, wife and mother – compares herself with Medea figures: the mythological and everyday Beirut woman.
Hanane Hajj Ali is an important Beirut-based actor, writer and activist. Apart from her theatre works she plays an active role in cultural policy development and cultural planning.
Jogging
is the result of a collective lab led by Hanane Hajj Ali, with artistic director Eric Deniaud, and dramaturge Abdullah El Kafri.
'It's a meditation on Medea, mothers, motherlands, Middle Eastern politics and pigeon shit – completely absorbing'
– The Stage
Presented with additional support from Arab Fund for Arts and Culture, British Council and Drosos Foundation.
Image: Marwan Tahtah
Monday 8 July - 7pm
Tuesday 9 July - 7pm
Wednesday 10 July - 7pm
Presented with additional support from Arab Fund for Arts and Culture, British Council and Drosos Foundation.
Theatre maker and cultural activist, Hanane Hajj Ali is an eminent figure of Lebanon's cultural and artistic scene. Her career started in 1978 with the Hakawati Theater Theater (Lebanese Theatre of Storytellers). In 2005, she was chosen by Jean Baptiste Sastre to play the leading role of the mother in Les Paravents of Jean Genet at Palais de Chaillot in Paris. Her latest performance JOGGING was awarded in August 2017 the "Vertebra Prize for Best Actor" at the Fringe / Edinburgh International Festival, touring in prestigious international theatres and festivals.
"Above all, do not rely on the veil she bears in the sense we often give to this scarf in the West; because Hanane Hajj Ali is anything but a submissive ­woman!... Her atypical career confirms this feeling" Thierry Savatier- Le monde

In addition to her artistic activity, Hanane Hajj Ali is teaching in the Department of Theater Studies at IESAV- Saint Joseph University and in the Department of Theater and Cinema Studies at the Lebanese University. As a researcher she has contributed to the editing and writing of many books, the most important of which are "Introduction to Culture Policies in the Arab World" and "Teater Beirut".
Beside her academic activities, Hanane Hajj Ali continues her many contributions in the framework of cultural and societal work. She is a founder and board member of several cultural institutions and artistic organizations in the Arab world such as "Culture Resource- Al Mawred Athaqafy", "Action For Hope", and "Ettijahate, Independent Culture". She co-founded the Censorship Observatory for the monitoring and reform of censorship laws in Lebanon defending the right of free expression, public spaces, democratization and decentralization of culture.
In 2015 she was elected a member of the UNESCO Expert Facility of the 2005 Convention on the Protection and Promotion of the Diversity of Cultural Expressions, and in 2017 she received the Medal of Arts and Literature from the French Ministry of Culture.
Dates and Times
Monday 8 July - 7pm Tuesday 9 July - 7pm Wednesday 10 July - 7pm

Arabic with English Surtitles

---