23 February – 25 March
As part of the RESIST! season
Grounded 2017
Box office: 020 7229 0706
DATES & TIMES
23rd February - 25th March, 7:30pm. Fridays: 7pm & 9.15pm. Wednesday and Saturday matinees: 3pm.

---

PRESS NIGHT

---

YOUNG PEOPLE'S NIGHT

---

CAPTION NIGHT

---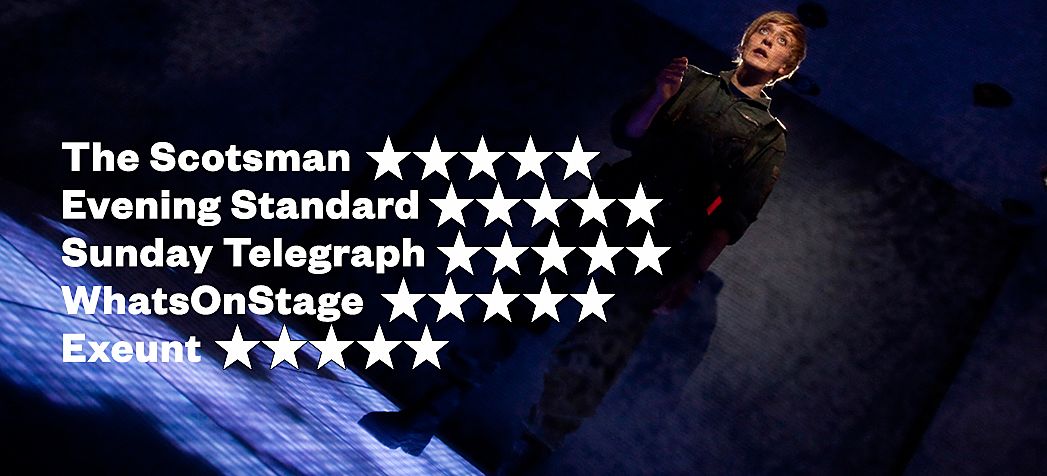 Share this production on Twitter or Facebook!
Award-winning, 5 star, smash hit Grounded returns to the Gate with original cast Lucy Ellinson.

She's a hot-rod F16 fighter pilot. She's pregnant. Her career in the sky is over. Now, she sits in an air-conditioned trailer in Las Vegas flying remote-controlled drones over the Middle East. She struggles through surreal 12 hours shifts far from the battlefield hunting terrorists by day and being a wife and mother by night.

Grounded is a gripping, compulsive play that targets our assumptions about war, family, and what it is to be a woman.

"Nothing short of mesmerising."
Sunday Telegraph

Running time: 1hr, without interval.
Please note, this production contains loud noises and flashing lights throughout.


Photo and trailer credit: Iona Firouzabadi
23rd February - 25th March, 7:30pm. Fridays: 7pm & 9.15pm. Wednesday and Saturday matinees: 3pm.
★★★★★
Sunday Telegraph



★★★★


"A smart, beautiful bit of writing that mixes our moral responses to war, family and motherhood, and throws them out in all directions."
Time Out
★★★★★
'Grounded, simple and elegant though it be, packs a punch greater than most high ticket productions will ever know.'
DC Metro Theatre Arts



"An essential story for our times."


The Scotsman
"Completely absorbing and hard to forget."
Time Out
"We're gripped from the first lines of George Brant's snappy, sparky staccato script."
Evening Standard
'A fireball performance.'
The Washington Post
<span 13px;"="">The Washingtonian
Artistic Director and Chief Executive
GEORGE BRANT (Playwright). Born in 1969, his plays include Grounded, Marie and Rosetta, The Mourners' Bench, Any Other Name, Salvage, Grizzly Mama, and Three Voyages of the Lobotomobile. A Core Writer at the Playwrights' Center, his scripts have been produced internationally by the Public Theater, the Atlantic Theatre Company, Trinity Repertory Company, the Studio Theatre, Cleveland Play House, Gate Theatre, Page 73, and the Traverse Theatre, among others. His plays have received the Smith Prize, a Fringe First Award, a Creative Workforce Fellowship, an Off-West End Theatre Award, an NNPN Rolling World Premiere and the Keene Prize for Literature. He is published by Samuel French, Oberon Books and Smith & Kraus. George received his MFA in Writing from the Michener Center for Writers at the University of Texas at Austin and is a member of the Dramatists Guild.
Christopher is the Artistic Director at the Gate Theatre and formerly an Associate Director at the Bush Theatre.

Credits at the Gate include: Diary of a Madman (also Traverse Theatre), The Iphigenia Quartet, The Christians (also Traverse Theatre, winner: Fringe First), Grounded (also Traverse Theatre, Studio Theatre Washington DC, national and international tour; winner: Fringe First, Best Production - Off West End Awards) Image of an Unknown Young Woman (winner: Best Production, Off West End Awards), The Edge of Our Bodies, Trojan Women, Purple Heart, The Prophet, Wittenburg.

Other theatre credits include: Twelve Angry Men (Birmingham Rep/West End), Sixty-Six Books, In the Beginning (Bush Theatre/Westminster Abbey); A Safe Harbour for Elizabeth Bishop (Southbank Centre); Grace, Pressure Drop (On Theatre); Deep Cut (Sherman Cymru/National Tour); Monsters, Notes from Underground (Arcola); A Number (Salisbury Playhouse). Short Films include: The Taming of the Shrew/Two Gentleman of Verona (Globe Theatre) Devil in the Detail (Royal Court/Guardian).

As a journalist he has written for: The Scotsman, The Financial Times, The Independent, The Guardian, The New Statesman and Prospect Magazine. He is the co-editor of three books: Conversations on Religion, Conversations on Truth (Continuum) and Identity and Identification (Black Dog).
23 February – 25 March
As part of the RESIST! season
Grounded 2017
Box office: 020 7229 0706
DATES & TIMES
23rd February - 25th March, 7:30pm. Fridays: 7pm & 9.15pm. Wednesday and Saturday matinees: 3pm.

---

PRESS NIGHT

---

YOUNG PEOPLE'S NIGHT

---

CAPTION NIGHT

---