08 – 08 March
As part of the RESIST! season
Grounded: 200th Performance Celebration
Box office: 020 7229 0706
DATES & TIMES
Wednesday 8th March 2017, 7:30pm

---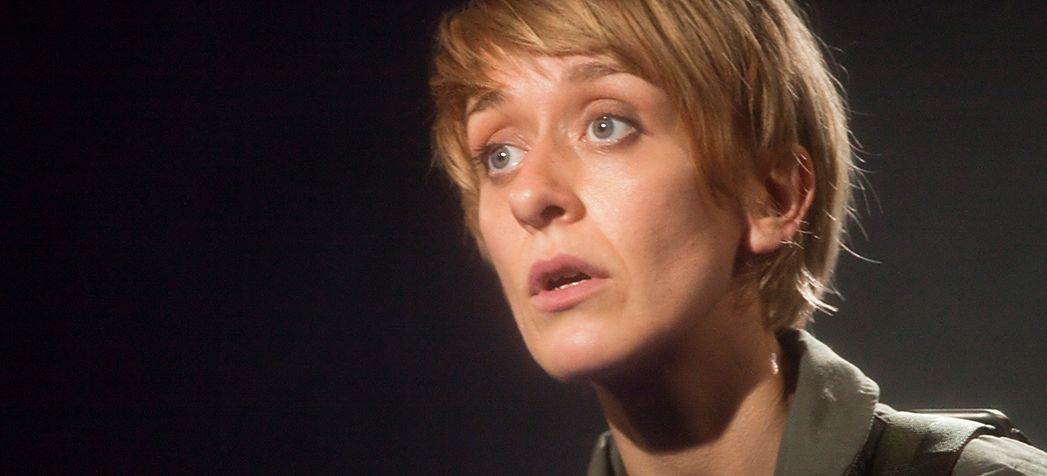 Share this production on Twitter or Facebook!
To commemorate the 200th performance of Grounded, we will be hosting a special one-off celebration performance. Join us for a post-show bash celebrating both the wonderful show and Christopher Haydon, our outgoing Artistic Director's tenure at the Gate.

Tickets for this special evening will be £50 with additional donations going to the wonderful work the Gate continues to do.
Wednesday 8th March 2017, 7:30pm
WINNER - BEST PRODUCTION AND BEST DESIGN, OFFWESTEND AWARDS.
FRINGE FIRST AWARD WINNER 2013.
★★★★★
Sunday Telegraph
★★★★★
theatreCat: Libby Purves
★★★★
"A smart, beautiful bit of writing that mixes our moral responses to war, family and motherhood, and throws them out in all directions."
Time Out
★★★★
"Spectacular."
The Upcoming
★★★★★
'Grounded, simple and elegant though it be, packs a punch greater than most high ticket productions will ever know.'
DC Metro Theatre Arts
'A tour-de-force performance that's nothing short of electrifying.'
​Broadway World
"An essential story for our times."
The Scotsman
"Nothing short of mesmerising."
Sunday Telegraph
"Completely absorbing and hard to forget."
Time Out
"A searing piece of writing, and gets the blistering performance it deserves from Ellinson."
The Guardian
"We're gripped from the first lines of George Brant's snappy, sparky staccato script."
Evening Standard
"Haydon precision-guides the show to a stratospheric level of theatrical intensity."
The Telegraph
"A fine, thoughtful and empathic piece of writing… subtle and troubling."
Time Out
'A fireball performance.'
The Washington Post
'Mesmerizing.'
The Washingtonian
The Gate Theatre's work is made possible by public funding from Arts Council England.
Grounded 2017 is part of the
Jerwood Young Designers Programme
, supported by the Jerwood Charitable Foundation.
08 – 08 March
As part of the RESIST! season
Grounded: 200th Performance Celebration
Box office: 020 7229 0706
DATES & TIMES
Wednesday 8th March 2017, 7:30pm

---