28 April – 30 May
Grounded 2013
Box office: 020 7229 0706
Key Dates
£10 Gatecrasher performances

Mon 28 Apr - 7.30pm
Sat 3 May - 3.00pm
Sat 10 May - 3.00pm
Sat 17 May - 3.00pm
Sat 24 May - 3.00pm
Wed 28 May - 3.00pm

---

Press night

---

Captioned performance

---

Gate Debates

Thu 8 May - post-show
Thu 15 May - post-show

---

Gate Educate masterclass

---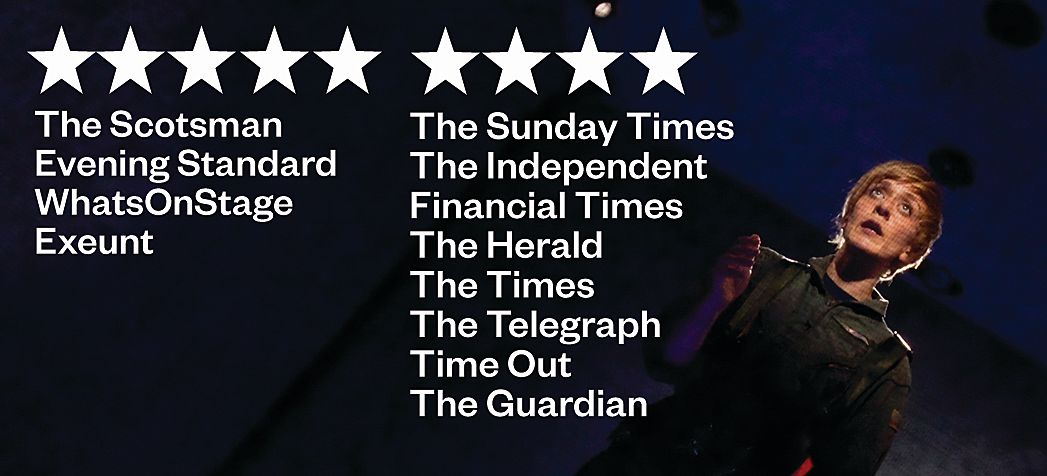 Share this production on Twitter or Facebook!
Please note you are looking at an archived production page. To see
Grounded
2017, please
click here
.
"My pulse quickens.
It is not a fair fight, but it quickens."
She's a hot-rod F16 fighter pilot. She's pregnant. Her career in the sky is over. Now, she sits in an air-conditioned trailer in Las Vegas flying remote-controlled drones over the Middle East. She struggles through surreal 12 hours shifts far from the battlefield hunting terrorists by day and being a wife and mother by night.
Winner of a Fringe First award (2013),
Grounded
is a gripping, compulsive new play that flies from the heights of lyricism to the shallows of workaday existence. This extraordinary play targets our assumptions about war, family, and what it is to be a woman.
To download a copy of our freesheet click here:
Grounded freesheet
Mon - Sat 7.30pm
Sat 3.00pm

The running time of Grounded is 65 minutes without an interval.
WINNER - BEST PRODUCTION AND BEST DESIGN, OFFWESTEND AWARDS.
FRINGE FIRST AWARD WINNER 2013.

★★★★★
Sunday Telegraph

★★★★★
theatreCat: Libby Purves

★★★★
"A smart, beautiful bit of writing that mixes our moral responses to war, family and motherhood, and throws them out in all directions."
Time Out

★★★★
"Spectacular."
The Upcoming

★★★★★
'Grounded, simple and elegant though it be, packs a punch greater than most high ticket productions will ever know.'
DC Metro Theatre Arts

'A tour-de-force performance that's nothing short of electrifying.'
​Broadway World

"An essential story for our times."
The Scotsman

"Nothing short of mesmerising."
Sunday Telegraph

"Completely absorbing and hard to forget."
Time Out

"A searing piece of writing, and gets the blistering performance it deserves from Ellinson."
The Guardian

"We're gripped from the first lines of George Brant's snappy, sparky staccato script."
Evening Standard

"Haydon precision-guides the show to a stratospheric level of theatrical intensity."
The Telegraph

"A fine, thoughtful and empathic piece of writing… subtle and troubling."
Time Out

'A fireball performance.'
The Washington Post

'Mesmerizing.'
The Washingtonian


Grounded is supported by Arts Council England and the Jerwood Charitable Foundation.

GROUNDED PRODUCTION SYNDICATE:
Mark Bayley
Kristina Borsy and Nick Turdean
Neil and Sarah Brener
Sarah Havens and Gregg Sando
Bill and Stephanie Knight
Sue Kubly
Linda and David Lakhdhir
Rita and Michael Laven
Robert and Gail Reichert
Chris Rust
GEORGE BRANT (Playwright). Born in 1969, his plays include Grounded, Marie and Rosetta, The Mourners' Bench, Any Other Name, Salvage, Grizzly Mama, and Three Voyages of the Lobotomobile. A Core Writer at the Playwrights' Center, his scripts have been produced internationally by the Public Theater, the Atlantic Theatre Company, Trinity Repertory Company, the Studio Theatre, Cleveland Play House, Gate Theatre, Page 73, and the Traverse Theatre, among others. His plays have received the Smith Prize, a Fringe First Award, a Creative Workforce Fellowship, an Off-West End Theatre Award, an NNPN Rolling World Premiere and the Keene Prize for Literature. He is published by Samuel French, Oberon Books and Smith & Kraus. George received his MFA in Writing from the Michener Center for Writers at the University of Texas at Austin and is a member of the Dramatists Guild.
Christopher is the Artistic Director at the Gate Theatre and formerly an Associate Director at the Bush Theatre.

Credits at the Gate include: Diary of a Madman (also Traverse Theatre), The Iphigenia Quartet, The Christians (also Traverse Theatre, winner: Fringe First), Grounded (also Traverse Theatre, Studio Theatre Washington DC, national and international tour; winner: Fringe First, Best Production - Off West End Awards) Image of an Unknown Young Woman (winner: Best Production, Off West End Awards), The Edge of Our Bodies, Trojan Women, Purple Heart, The Prophet, Wittenburg.

Other theatre credits include: Twelve Angry Men (Birmingham Rep/West End), Sixty-Six Books, In the Beginning (Bush Theatre/Westminster Abbey); A Safe Harbour for Elizabeth Bishop (Southbank Centre); Grace, Pressure Drop (On Theatre); Deep Cut (Sherman Cymru/National Tour); Monsters, Notes from Underground (Arcola); A Number (Salisbury Playhouse). Short Films include: The Taming of the Shrew/Two Gentleman of Verona (Globe Theatre) Devil in the Detail (Royal Court/Guardian).

As a journalist he has written for: The Scotsman, The Financial Times, The Independent, The Guardian, The New Statesman and Prospect Magazine. He is the co-editor of three books: Conversations on Religion, Conversations on Truth (Continuum) and Identity and Identification (Black Dog).
Theatre includes: JUBILEE (Lyric Hammersmith/Royal Exchange Theatre); KINGDOM COME, A MIDSUMMER NIGHT'S DREAM: PLAY FOR THE NATION (RSC); THE RESISTABLE RISE OF ARTURO UI (Donmar Wrehouse); GROUNDED, THE CHRISTIANS, TROJAN WOMEN, TENET (The Gate); WORLD FACTORY (Metis Arts/Young Vic/New Wolsey); MAD MAN (Chris Goode/Theatre Royal Plymouth); MONEY: THE GAMESHOW (Clare Duffy/Unlimited Theatre/Bush); OH THE HUMANITY! (AND OTHER GOOD INTENTIONS) (Northern Stage/Soho); PRESUMPTION (Third Angel); MISSION TO MARS, THE SWING LEFT (Unlimited Theatre); A THOUSAND SHARDS OF GLASS (Jane Packman Company); THEY ONLY COME AT NIGHT (Slunglow Theatre/BITE Festival/The Barbican); #TORYCORE (Forest Fringe/The Arches/BAC/Gate); LAND WITHOUT WORDS (Lydia Ziemke/Suite42 Berlin); HUSSEIN (Suite42 Berlin/Zoukak Theatre Beirut).

Television includes: BRITANNIA; NEW TRICKS.
Her credits include Leaving Home Party (Farnham Maltings), By Mr Farquhar (Waterside Theatre, UK City of Culture), Text Messages: Macbeth (Project Theatre), Shakespeare in a Suitcase (RSC, Co-directed with Tim Crouch), The Recovery Position (Lion and Unicorn), Twizzler Soaked Ecstasy, (SITI Co, Bernhard Theatre Studio), The Children (Embassy Theatre), Lab Run and Attempts on Her Life (Durham Theatre, Berkeley, USA). She was Assistant Director at Royal Court Theatre on Adler and Gibb, at RSC on Wendy and Peter Pan, and the international tour of King Lear. As Creative Associate at the Gate she assisted on Purple Heart and was Associate Director on Grounded. Byrne is an Education Associate Practitioner for RSC.
Oli trained at RWCMD and is an Associate Artist at the Gate Theatre. Previous credits for the Gate include: Wittenberg. Other set and costume design credits include: Rodelinda (Scottish Opera); Macbeth (Blackheath Community Opera); Hitchcock Blonde (Hull Truck); A Beginning, A Middle, and An End (Greyscale/Scottish Tour); The Merchant of Venice (Creation Theatre); Gods are Fallen and All Safety Gone (Greyscale/Almeida Festival); Blood Wedding (Royal and Derngate); Fings Ain't Wot They Used T'Be (Union); .45 (Hampstead); The Barber of Seville (Opera Up Close); INTRIGUE/LOVE (Southwark Playhouse); Narcissus (Roundhouse); The Grimm Bros' Circus (Bath Theatre Royal & En Masse Theatre); For All Time, The Memory of Water, Blackbird (Theatre By The Lake). Costume design credits include: Wozzeck (ENO); The Lighthouse (ROH Linbury); Big Maggie (Druid). Oli is one of the Gate's Jerwood Young Designers for 2013.
Mark studied briefly at Oxford University prior to training in Stage Lighting Design at RADA.

His previous credits for the Gate Theatre include: Diary of a Madman, The Christians, Image of an Unknown Young Woman, Edge of Our Bodies, Grounded, Purple Heart, Trojan Women, The Prophet, Yerma, Wittenberg, The Kreutzer Sonata, Vanya.

Other design credits include: Rudolf (West Yorkshire Playhouse); Xerxes, La Calisto, Ulysses' Homecoming, The Tales of Hoffmann, Werther, Pelleas et Melisande (for which he was nominated for a Knights of Illumination Award), La Boheme, Wild Man of the West Indies, The Siege of Calais (English Touring Opera), Twelve Angry Men (Birmingham Rep/West End),The Elixir of Love & Rodelinda (Scottish Opera), The Glass Menagerie (Nottingham Playhouse), The Patriotic Traitor (Park Theatre), Canvas (Chichester Festival), The Winter's Tale, She Stoops to Conquer, An August Bank Holiday Lark, The Grand Gesture (Northern Broadsides), Brassed Off (York Theatre Royal), A Further Education, Elephants, Four Minutes Twelve Seconds, The Blackest Black, Ignorance (Hampstead Theatre), Pride and Prejudice – the Musical, The Man Jesus, Uncle Vanya, Dockers, The Home Place (Lyric Theatre, Belfast), Dancing at Lughnasa, Ghosts, Sweeney Todd (Aarhus Theatre, Denmark), Singin' in the Rain (Det Ny Teater, Copenhagen), Entertaining Mr Sloane, One Flew Over the Cuckoo's Nest, Absurd Person Singular, Molly Sweeney, Translations (Curve Theatre, Leicester), The Ladykillers, Hitchcock Blonde (Hull Truck), Measure for Measure (Sherman Cymru), Six Dance Lessons in Six Weeks (Vienna's English Theatre), Bea, Pressure Drop, On Religion (On Theatre), Parallel The Suit, Parallel Electra (Young Vic), Dick Turpin's Last Ride, Cider with Rosie, The Merchant of Venice (Theatre Royal, Bury St Edmunds), A Number (Salisbury Playhouse), The Pains of Youth (Belgrade Theatre).


Tom trained at Central School of Speech and Drama. Recent theatre credits includes: Lion Boy (Complicite); As You Like It (RSC); Julius Caesar (Donmar); The Spire (Salisbury Playhouse); London (Paines Plough); Roundabout Season (Shoreditch Town Hall, Paines Plough); The Rover (Hampton Court Palace); Love Love Love (Royal Court); Island (National Theatre, Tour); Romeo & Juliet (Headlong); Disco Pigs (Young Vic); Dead Heavy Fantastic (Liverpool Everyman); Plenty (Crucible Studio, Sheffield); Encourage The Others (Almeida); Wasted (Paines Plough, Tour); Chalet Lines, The Knowledge, Little Platoons, 50 Ways To Leave Your Lover (Bush Theatre); The Hairy Ape, Shivered, Faith, Hope and Charity, The Hostage, Toad (Southwark Playhouse); Sold (503); The Chairs (Ustinov Bath); The Country, The Road To Mecca, The Roman Bath, 1936, The Shawl (Arcola); Utopia, Bagpuss, Everything Must Go, Soho Streets (Soho Theatre); Hitchcock Blonde (Hull Truck). Credits as Associate include: A Season in the Congo (Young Vic); Choir Boy (Royal Court); Broken Space Season (Bush Theatre).
Video design credits include: PIIGS (Royal Court); The Universal Machine (New Diorama); Mare Rider (Arcola Theatre); Kiss of the Spider Woman (Arts Ed); Jekyll & Hyde: The Musical (Union Theatre). Credits as touring Video Supervisor include: Menage A Trois, Macbeth (National Theatre of Scotland); Lovesong (Frantic Assembly). This role is funded by the Jerwood Charitable Foundation, as part of the Jerwood Young Designers Programme at the Gate.
28 April – 30 May
Grounded 2013
Box office: 020 7229 0706
Key Dates
£10 Gatecrasher performances

Mon 28 Apr - 7.30pm
Sat 3 May - 3.00pm
Sat 10 May - 3.00pm
Sat 17 May - 3.00pm
Sat 24 May - 3.00pm
Wed 28 May - 3.00pm

---

Press night

---

Captioned performance

---

Gate Debates

Thu 8 May - post-show
Thu 15 May - post-show

---

Gate Educate masterclass

---