08 – 08 February
Dear Elizabeth: In Conversation - Open Mic with Dean Atta
Dear Elizabeth: Open Mic with Dean Atta
Box office: 020 7229 0706
DATE and TIME

Friday 8th February at 9:30pm

---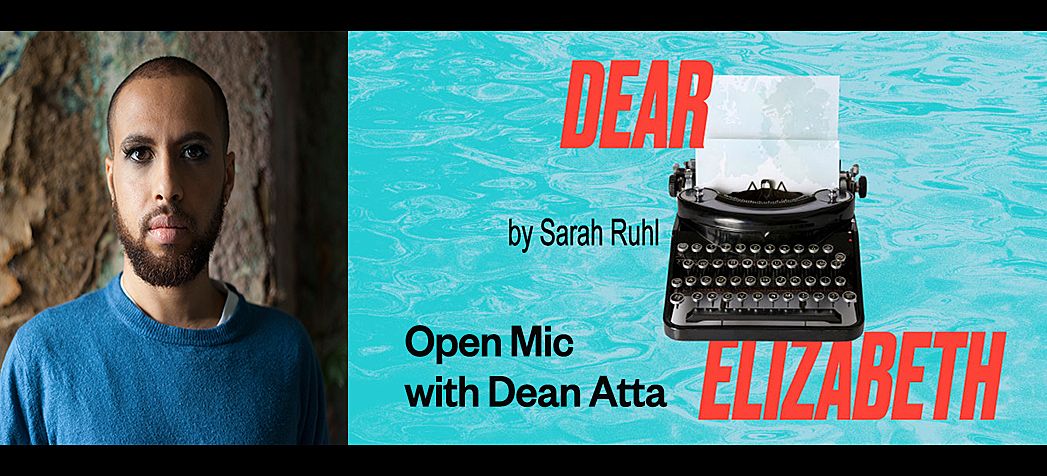 Share this production on Twitter or Facebook!
Dear Elizabeth is the story of poets Robert Lowell and Elizabeth Bishop and their deep, complex relationship. We are inviting different actors to perform the show each night- their story could relate to anyone. We all have someone like that in our lives. So we're handing over the floor to you to tell your stories. The Gate is having our first Open Mic night hosted by Dean Atta who will also be reading his own work. Dean was shortlisted for the Polari First Book Prize for his debut poetry collection,
I Am
Nobody's N****r
. His poems deal with themes of race, gender, identity and growing up, and have appeared on BBC One, BBC Radio 4, BBC World Service and Channel 4. Dean was named as one of the most influential LGBT people in the UK by the Independent on Sunday.
We're welcoming everyone to read their work or simply watch, no matter how new or experienced you are. Come and join us on the set of
Dear Elizabeth
. It's over to you.
This event will take place after the performance of Dear Elizabeth and is free for those who perform their work and £2.50 or £5 (pay what you can) for those who want to watch.
Email
anthony@gatetheatre.co.uk
if you would like to perform.
8th February at 9:30pm,
straight after the evening's perfromance of Dear Elizabeth.
Dean was shortlisted for the Polari First Book Prize for his debut poetry collection, I Am Nobody's Nigger. His poems deal with themes of race, gender, identity and growing up, and have appeared on BBC One, BBC Radio 4, BBC World Service and Channel 4. Dean was named as one of the most influential LGBT people in the UK by the Independent on Sunday. He regularly performs across the UK and internationally. Dean is a member of Keats House Poets Forum and Malika's Poetry Kitchen. He has a Philosophy and English BA from the University of Sussex and a Writer/Teacher MA from Goldsmiths, University of London. Dean is a Tutor for Poetry School and a Writer in Residence for First Story.

His debut novel, The Black Flamingo, will be published in August 2019 by Hodder Children's Books.

Photo credit: Hussina Raja
08 – 08 February
Dear Elizabeth: In Conversation - Open Mic with Dean Atta
Dear Elizabeth: Open Mic with Dean Atta
Box office: 020 7229 0706
DATE and TIME

Friday 8th February at 9:30pm

---