DATES

---

Press Night

---

Young People's Night

---

Supporters Night

---

Caption Night

---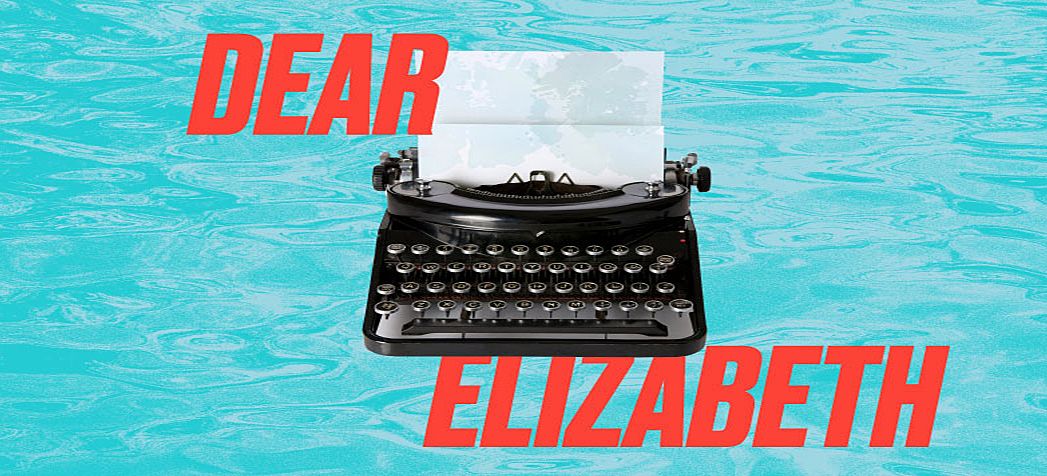 Share this production on Twitter or Facebook!
"I hope you aren't thinking that I am a) dead b) annoyed. I'm neither, but I did have flu."

Elizabeth Bishop and Robert Lowell were two of America's most brilliant poets. Throughout their lifetime, they wrote over 400 letters to each other; spanning decades, continents, political eras. Their connection was messy and profound, platonic yet romantic, intense and intangible. A love that resists easy definition.

These are their words.

Susan Smith Blackburn award winner Sarah Ruhl has crafted a stunning and quietly bold piece of theatre about what it means to love someone, and all the questions we regret never asking.

CAST

We're excited to announce that two different performers will take the roles of Elizabeth Bishop and Robert Lowell for each performance. They will meet each other, the audience, and the story of Robert and Elizabeth at the same time. They won't know how the story ends: they will discover it with the audience.
The performers include:

Travis Alabanza
Jade Anouka
Tim Crouch
Tamsin Greig
Alex Jennings
Lucy McCormick
Christopher Green
Hattie Morahan
Kayla Meikle
Nina Bowers
Christopher Brett Bailey


Keep checking our website for updates on who will be performing and when.
Press Night: 22 January
Young People's Night: 25 January
Supporters Night: 31 January
Caption Night: 5 February

Evening performances: 7.30pm
Matinees: 3pm


Young People's Night is supported by Douglas & Gordon.
Sarah Ruhl's plays include How to Transcend a Happy Marriage; For Peter Pan on her 70th Birthday; The Oldest Boy; In the Next Room, or the vibrator play (Pulitzer Prize finalist, Tony Award nominee for best new play); The Clean House (Pulitzer Prize Finalist, The Susan Smith Blackburn Prize); Passion Play (Pen American award, The Fourth Freedom Forum Playwriting Award from The Kennedy Center); Orlando; Late: a cowboy song; Dear Elizabeth; Dead Man's Cell Phone (Helen Hayes Award); Eurydice; and Stage Kiss. She is a two-time Pulitzer Prize finalist and a Tony Award nominee. Her plays have been produced on Broadway at the Lyceum by Lincoln Center Theater, off-Broadway at Playwrights Horizons, Second Stage, and at Lincoln Center's Mitzi Newhouse Theater. Her plays have been produced regionally all over the country and have also been produced internationally, and translated into over twelve languages. Ms. Ruhl received her M.F.A. from Brown University where she studied with Paula Vogel. She has received the Steinberg Distinguished Playwright award, the Susan Smith Blackburn award, the Whiting award, the Lily Award, a PEN award for mid-career playwrights, and the MacArthur "genius" award. Her book of essays 100 Essays I Don't Have Time to Write was published by Faber and Faber was a Times Notable Book of the Year. She teaches at the Yale School of Drama and lives in Brooklyn with her family.
Ellen McDougall is Artistic Director at the Gate Theatre. Previous credits at the Gate include - Effigies of Wickedness (2018), The Tale of the Unknown Island (2017) and Idomeneus (2014). Other credits include The Wolves (Royal Theatre Stratford East, 2018), a critically acclaimed production of Othello at the Sam Wanamaker Playhouse at the Globe, the Lyric's annual pantomime – Aladdin by Joel Horwood (2016) and Cinderella by Tom Wells (2015), The Rolling Stone (Orange Tree Theatre and Manchester Royal Exchange), The Remains of Maisie Duggan (Abbey Theatre, Dublin), The Glass Menagerie(Headlong), Anna Karenina (Manchester Royal Exchange), Henry the Fifth(Unicorn Theatre); Glitterland (Secret Theatre/Lyric Hammersmith) and Ivan and the Dogs (Actors Touring Company/Soho Theatre).

She was awarded an International Artists' Development Award (ACE/British Council) in 2012; she was the runner up in the JMK Award 2008 and directed A Kind of Alaska at BAC. Her production of Ivan and the Dogs (Actors Touring Company/Soho Theatre) was nominated for an Olivier Award in 2011. Ellen will direct Our Town at Regents Park Open Air Theatre in 2019.
Nina trained at the Royal Central School of Speech and Drama on the CDT course
(collaborative and devised theatre). She graduated in 2017.


Her theatre credits include THE WOLVES (Theatre Royal Stratford East) directed by Ellen McDougall;
THE MAGIC FLUTE (Aix-­‐en-­‐Provence Festival) for Complicité directed by Simon McBurney; CRAVE
(The Pit, Barbican) directed by Julie Cunningham; all 19 characters in TWILIGHT: LOS ANGELES 1992
(The Gate Theatre) directed by Ola Ince and TOMORROW I'LL BE TWENTY (regional tour) for Complicité, directed by Catherine Alexander.
Theatre includes: Ear For Eye (Royal Court); Dance Nation (Almeida); A Midsummer Night's Dream, Jack & the Beanstalk (Lyric, Hammersmith); I Have Mouth & I Will Scream, People Who Need People, Streets (Vaults Festival); Macbeth, Romeo & Juliet (National); Primetime (Royal Court); The Taming of the Shrew (Arts); Operation Black Antler (Blast Theory); Merlin (Nuffield); All That Lives (Ovalhouse).
Television includes: The Capture, Afterlife, Will, Bitesize Learning.
Film includes: Soundproof, State Zero, Every Eight Minutes, Samira's Party.
Moi Tran is a Visual Artist/Performance maker/Researcher and Designer, her practice is interested in the intersections between Contemporary Art and Performance.

Upcoming Theatre includes: White Pearl(Royal Court); Summer Rolls (Park); Under the Umbrella (Belgrade/Tara Arts);
Recent Theatre includes: Deluge (Hampstead); Roundelay (Southwark); Tamburlaine (Yellow Earth); The Manual Oracle (Yard/Anxiety Festival); Golden Child (New Diorama); Bandages (Corn Exchange, Newbury/Live, Newcastle/UK tour); Meat, The Whiskey Taster (Bush); Emoticon, Kafka Vs Kafka (Jack Studio); Concrete Jungle (Riverside Studios/Tobacco Factory); A Woman of Substance, The Death of Norman Tortilla (Tristan Bates); A Bacchae (Yard); Shrink (Old Red Lion); A Woman Alone (Tabard); Napoli (Leeds Playhouse); Imperial Fizz (Jermyn Street/Edinburgh Festival Fringe); The Jewish Wife (BAC); The Last Days of Limehouse (Limehouse Town Hall/Yellow Earth), Heaven In Berlin, Café Duende (Hobo); Hackney Wicked Festival (Peanut Factory); Kinetic Frentic (Site specific).

Recent Opera includes: The Imperfect Pearl (Corn Exchange Newbury/St Georges/Kings Place London/UK Tour); Falstaff (Opera Berbiguieres, France).

Recent Dance includes: Human Wall (V&A); Genus Classification by Altitude of Occurrence Vertical Series (Gallery 223); Temporality in a Cut (Display Gallery).

Recent Art Performance includes: The Circuit- A Movement Scenario (OvalSpace/Rootstein Hopkins/SPILL). The Other day you sat too far away from me( Henry Moore Courtyard). SLEEP( Live Art Development Agency)

Recent Film includes: Man X (Short), Bites (Short), Kolya (Short animation), Healthy, Join the Dots.

Upcoming Awards/Commissions include: British Council/Taiwan Ministry of Culture Arts and Culture Fellowship in SEA. 2018-2019. Prague Quadrennial 2019.
Recent Awards/Commissions include OV12 Attached Artist. LADA Artist DIY 2018. SPILL Festival 2018. JMK award for Design.
Jon is a composer and sound designer working across theatre, audio drama & VR.
Recent music / sound-scores for theatre include
Hamlet
(RSC);
Spring Storm
,
Beyond The Horizon
and
The Holy Rosenbergs
(NT);
Good Canary
(dir. John Malkovich)
, My Brilliant Friend, Much Ado About Nothing
(Rose);
Touching The Void,
Pink Mist
,
Medea
(Bristol Old Vic),
Yerma, Idomeneus
(Gate);
Bracken Moor
,
Mermaid
(Shared Experience),
Wonderland
(Nottingham Playhouse),
Our Country's Good
(Ramps On The Moon);
(the fall of) the Master Builder
(West Yorkshire Playhouse),
The Mother
(Bath Theatre Royal / Kiln),
Trouble In Mind
(Print Room).
He's also created music / sound designs for dozens of BBC audio dramas and features, most recently
Ballad Of the Blade
for Radio 4 in collaboration with poet Momtaza Mehri. He's currently working with the BBC on
Turning Worlds
, the sequel to the VR experience
The Turning Forest
which he scored last year.
www.jonnicholls.com
Jessica Hung Han Yun is a lighting designer works in theatre, from theatre to dance, circus and installations. Jessica has been nominated for the Off West End Award for Best Lighting Designer 2018.
Lighting Designer credits include: Hive City Legacy (Hot Brown Honey & Roundhouse);The Party's Over (Nonsuch Theatre Company); Gypsy Disco (Boomtown Festival); Becoming Shades (Chivaree Circus); Nine Foot Nine (Sleepless Theatre Company); The Human Voice (The Gate Theatre); Cuckoo (Metal rabbit productions); Forgotten (Yellow Earth & Moongate); Snowflake (Arts Old fire station); One (Bert&Nasi).
Jade Anouka's
stage roles include
The Greatest Wealth
(The Old Vic),
Queen Margaret
(Royal Exchange),
The Phlebotomist
(Hampstead Theatre),
Cover My Tracks
(The Old Vic),
Shakespeare Trilogy
(Donmar Warehouse),
Doctor Faustus
(The Jamie Lloyd Company),
Henry IV
(St Anne's Warehouse, New York),
So Here We Are
(Royal Exchange/High Tide),
Chef
(Soho),
The Vote
and
Henry IV
(Donmar Warehouse),
Chef
(Edinburgh Fringe),
Omeros
(Sam Wanamaker Playhouse),
Clean
(59E59 Theatres New York),
Julius Caesar
(St Anne's Warehouse, New York),
Clean
(Traverse Theatre),
Romeo and Juliet
(Shakespeare's Globe),
Julius Caesar
(Donmar Warehouse),
Moon On A Rainbow Shawl
(National Theatre),
Hamlet
(Shakespeare's Globe),
Romeo and Juliet
(Bolton Octagon),
Wild Horses
(Theatre 503),
Love's Labour's Lost
(Shakespeare's Globe / US tour),
Blood Wedding
(Southwark Playhouse),
Twelfth Night
(York Theatre Royal),
The Taming of the Shrew
(RSC),
The Merchant of Venice
(RSC),
The Penelopiad
(RSC/National Arts Centre Canada),
Handa's Surprise
(The Little Angel Theatre). On television she has appeared in
Turning Up Charlie
,
Cleaning Up
,
Trauma
,
Chewing Gum
,
Lucky Man
,
The Vote
,
Shakespeare Uncovered: Romeo and Juliet
,
Doctor Who:The Bells of Saint John
,
Shakespeare Uncovered: The Comedies
,
Shakespeare Uncovered: The Tempest
,
Shakespeare Uncovered: Hamlet
,
Secrets and Words: Mightier Than The Sword
,
Law and Order:UK
. On film, Jade has appeared in
The Rhythm Section
,
Fisherman's Friend
,
Baby Gravy
,
The Dark Channel
,
A Summer Hamlet
,
T-Police Field
,
A Running Jump
,
That Serious Face
and
Happy Hour
. On radio she has appeared in
Assata Shakur:The FBI's Most Wanted Woman
and
World On The Move
.
Tim Crouch
is an Obie-award winning writer, actor and theatre-maker. His plays include
My Arm
,
ENGLAND
(a play for galleries),
An Oak Tree
,
The Author
,
Adler & Gibb
,
Beginners,
and (with Andy Smith)
what happens to the hope at the end of the evening.
Tim also writes for younger audiences. A series of plays inspired by Shakespeare's lesser characters includes
I, Malvolio
and
I, Peaseblossom.
For the RSC Tim has directed
The Taming of the Shrew
,
King Lear
and
I, Cinna (the poet)
– all for young audiences. Directing credits include
Jeramee, Hartleby and Oooglemore
for the Unicorn Theatre, London, and
The Complete Deaths
for Spymonkey. Awards include a Fringe First, two Herald Angels, two Total Theatre awards, the Brian Way award for best children's play and the 2010 John Whiting award. Tim is published by Oberon Books. He is currently under commission to the Ark, Dublin, the Royal Court Theatre, the National Theatre of Scotland and the BBC.
Nigel Barrett is an award winning actor and theatre maker. He is a member of the shunt collective and has been working with Louise Mari since 2006, when they started the shunt lounge together – the infamous arts venue under London Bridge Station. He is also an associate director with Sulayman Al-Bassam Theatre and Sabab, with whom he made The Arabic Shakespeare Trilogy for the RSC, Peter Brooks Bouffe du Nord and BAM New York.

His theatre work includes The Mysteries (Royal Exchange Manchester), 100: Unearthed (Wildworks), Party Skills for the End of the World (Manchester International Festival and Shoreditch Town Hall), Kingdom Come (RSC), Margate/Dreamland (Shoreditch Town Hall), Blasted (Barrel Organ / Styx), Big Bad Wolf in Baddies the Musical (Unicorn Theatre), The Eye Test (National Theatre), Everyone (Chris Goode and Co), The Iphigenia Quartet (The Gate), Cyrano De Bergerac (Northern Stage Co), Praxis Makes Perfect (NTW / Berlin Festspiele), Mad Man (Theatre Royal Plymouth), There Has Possibly Been An Incident (Royal Exchange Manchester), Get Stuff Break Free ( National Theatre), The Passion (National Theatre Wales/Wildworks ), Pericles (Regents Park) and Richard III - An Arab Tragedy (RSC).

Film and television includes,
Doctor
,
Cycles
,
The Gospel of Us
,
The Boat
,
Hello You
,
Casualty
,
Meet The Piltdowns
,
Hairy Eyeball
,
Dawson's Creek Special
,
The Mysteries
,
Deadline
,
The Lens
,
Sexual Healing
,
England My England
.
Hannah Ringham is a actor and theatre maker. She is a co-founder and performer of the UK award winning performance collective SHUNT. Individual work includes Die or Run for the Arts in Mind Festival Kings College London, Free show (bring money) (Soho Theatre and national tour) both collaborations with Glen Neath and The Present (Unicorn Theatre, Battersea Arts Centre).
Her recent theatre credits include: The Mysteries (The Manchester Royal Exchange), All's Well that Ends Well (The Globe) Bad Faith (Laban Centre) The Unknown Island (The Gate) Islands (Bush Theatre), The Architects (Shunt), , Cadavre Exquis (2012), Contains Violence (Lyric Hammersmith), Tropicana (Shunt). She has performed and toured internationally with many other companies including Tim Crouch with the award winning two hander England, Kassys (a collaborative performance with Kassys, The Nature Theatre of Oklahoma and Nicole Beutler), Caroline Horton,. Short Films include Bouffon by Adam Broomberg and Oliver Chanarin.
Tamsin Greig
is an Award Winning actor of Stage & Screen. Her theatre work:
A Kind of Alaska/Landscape
(Pinter season (Harold Pinter Th),
Labour of Love
(Noel Coward Th);
Twelfth Night
(National Th
), The Intelligent Homosexual's Guide to Capitalism and Socialism with a Key to the Scriptures
(iHo);
Longing
(Hampstead Th),
Women on the Verge of a Nervous Breakdown
(Playhouse - Olivier nomination for Best Actress in a Musical);
Jumpy
(Royal Court/Duke of York's);
The Little Dog Laughed
(Garrick - Oliver Award Nomination for Best Actress 2011);
Gethsemane
(National Theatre);
God of Carnage
(Gielgud);
Much
Ado About Nothing
(RSC - Winner of The Critics Circle Award and Olivier Award for Best Actress Award (2007);
King John
(RSC. Her film work includes
Tamara Drewe
(British Independent Film Awards Nomination – and an out of competition hit at Cannes);
The Second Best Exotic Marigold Hotel
;
Breaking the Bank
,
Stop the World
/ Television work includes: Elementary
Episodes
(5 Series- BAFTA nomination);
White Heat
;
Friday Night Dinner (
4 series BAFTA nomination);The Guilty – 3 part series,
Diana & I
,
Emma
;
The Diary of Anne Frank
;
Love Soup
(2 Series);
Green Wing
(2 Series
–
Royal Television Society's Award 2006/BAFTA Nomination 2006 - British Comedy Award Nomination 2005);
Black Books
(3 Series),
People Like Us
;
Happiness.
Travis Alabanza
is a performer and writer based in London. Their theatre credits include
Putting Words in Your Mouth
(Roundhouse),
Jubilee
(Royal Exchange, Manchester and Lyric Hammersmith) and recently a sold-out, critically acclaimed run of their own show
Burgerz
(Hackney Showroom, Oval House, Royal Exchange). Outside of theatre, their writing and activism surrounding LGBTQ+ rights has appeared in Vogue, BBC, Huffington Post, The Guardian, Independent, and they have given talks at over 120 international institutions including The Tate, V&A, Harvard University, and Royal Academy of art.
Sally Hardcastle is a performance designer and assistant based in London. Since graduating with a degree in Theatre Design from Rose Bruford College she has worked with organisations including Wild Rumpus, The Bread and Roses Theatre, 42nd Theatre Company, London Bubble and The Redbridge Drama Centre. She has assisted designers including Gary McCann, Hannah Wolfe and Takis. She is also co-founder of new theatre company, Matipo. Sally has a particular interest in new writing and community based theatre. She is currently designing Footprints In The Snow at the Winchester Discovery Centre. Sally is thrilled to be working with Moi Tran on this production of Dear Elizabeth at the Gate Theatre.
Yasmin Hafesji
is a director and dramaturg. Past dramaturgical credits include Omeros by Derek Walcott (Gate Theatre, 2017). She is currently working with the Lyric Ensemble as Assistant Director (Lyric Hammersmith, 2019) and is the Community Assistant at the Bush Theatre where she supports Community Associate Companies create centrepiece performances with non-professional actors. Yasmin trained under Natalie Abrahami through the Young Vic Intro to Directing Programme.
Jenny Skivens is a freelance Stage Manager. Recently Jenny began working with City Academy, stage managing various performances and showcases throughout the year.

Her credits include: King Lear, An Octoroon (Orange Tree Theatre), Julius Caesar, Othello (Guildford Shakespeare Company), Cinderella, Merchant of Venice, Antony & Cleopatra, Tales From King James, Doctor Faustus, Rapunzel, Romeo & Juliet (Creation Theatre Company), Roald Dahl's City of the Unexpected, Praxis Makes Perfect, The Radicalisation of Bradley Manning (National Theatre Wales), SummerSalt Festival (Melbourne Recital Centre), Open East Festival, L'Orfeo (Barbican), Alice in Wonderland, Shelf Life (Volcano Theatre Company), Suicide Note From Palestine (Freedom Theatre), Sense & Sensibility (Rosemary Branch Theatre), World Enough & Time (Fluff Productions), Jack in the Beanstalk (Polka Dot Pantomimes).
Lucy is a London based Stage Manager. She trained at the Royal Central School of Speech and Drama, graduating with a BA(Hons) in Stage Management. Her work at Central includes Revolt. She Said. Revolt Again. (Deputy Stage Manager) and she interned on Punchdrunk's Small Wonders. Professional credits include Suffrageddon (Stage Manager) and The House Fairy (Assistant Stage Manager). Lucy is also the co-founder and General Manager of Ondervinden.
Ed is a Production Manager working in the UK and Worldwide.

Recent projects include Impossible (a world tour for Jamie Hendry Productions); Mozart vs. Machine (Mahogany); Austentatious(West End for Underbelly); Cathy (Cardboard Citizens); Disco Pigs (Tara Finney Productions); Black and Gold, a Google Christmas Party at the Roundhouse; a series of Star Wars launch events for HP, and The Grand Journey, a European tour for Bombay Sapphire.

Ed has worked for the Sound departments of the RSC, Royal Ballet, Regents Park Open Air, The Globe, Tricycle and various concert venues. He also dabbles in video design and provides broadcast engineering support for the BBC.

Ed has a Postgraduate Engineering degree from University of Warwick and grew up in London and Norfolk.
Christopher Green is a theatrical and broadcast provocateur. His experiential theatre credits as creator, writer, and director include: Prurience: an experiential entertainment about porn, which was performed at the Royal Festival Hall at the Southbank Centre July 2017 and transferred to the Guggenheim in New York March 2018 (the Guggenheim's first theatrical commission), VIP, The Frozen Scream (co-written with Sarah Waters) and Office Party (co-created with Ursula Martinez, directed by Cal McCrystal).

Christopher is the author of Overpowered: The Science & Showbiz of Hypnosis. He is a trained hypnotherapist and has reinvented the stage hypnotism routine in his theatre show The Singing Hypnotist. This was developed when he was the first Artist in Residence at The British Library in 2012. Christopher was the curator of Victorian Popular Entertainments: There Will Be Fun! at the British Library which ran from 2016-2017. He scripted the material for his own repertory company of performers to support the exhibition.

Christopher regularly writes for BBC Radio 4, including 9 series of Tina C and many radio plays. His most recent is How Success Ruined Me, a two hander with entertainment legend Roy Hudd about music hall singer, Fred Barnes. Christopher's previous radio drama series The Experience of Love, a five-part series exploring queer history in the late 20th Century, is now being developed for television.

He performs as characters such as country music singer, Tina C. who has recently published her autobiography, Complete & Utter Country, rapping pensioner Ida Barr and cultural critic Jedd O'Sullivan. Christopher has won multiple awards the first being the Olivier award for Best Entertainment in 2004 and the most recently, best Cabaret Show at Brighton Festival 2017.

Christopher's works in development include Music Hall Monster: The Insatiable Mr Fred Barnes for production at Wilton's Music Hall in May 2018, a commission from the Gate Theatre, London and the large-scale immersive show, The Home, in association with Entelechy Arts and The Albany for production in 2019.

Christopher is an Artistic Associate of Alexandra Palace, Wilton's Music Hall, Duckie, Entelechy Theatre Company, and Creative Cowboy Films (Australia)
Lucy McCormick is an actor/performer based in London.

Her hit show Triple Threat, took the Edinburgh Fringe by storm in 2016 and had a sell-out run at the Soho Theatre in 2017.

Her other theatre credits include: Collective Rage (Southwark Playhouse); Roller Diner(Soho Theatre); Cinderella (Oxford Playhouse); The Naked Truth (National Tour); First Love is the Revolution (Soho Theatre); Big Hits (International Tour); SPLAT! (Barbican); Violent Incient (Arnolfini Bristol); External (National Tour); Dusa, Fish, Stas, Vi (Worksworth Festival); As You Like It (Worksworth Festival/Jagged Fence Productions); The House of Bernada Alba (Tristan Bates Theatre)
Lucy won the Dublin Fringe Best Performer Award, Glasgow's Brick Award and the TV Bomb Groundbreaker Award for her show Triple Threat. She was further nominated for Emerging Artist at the Total Theatre Awards Edinburgh Festival. She has also received a Off West End Award nomination for Best Female for her role in Collective Rage.
DATES

---

Press Night

---

Young People's Night

---

Supporters Night

---

Caption Night

---