30 May – 06 July
Dances of Death
Dances of Death
Box office: 020 7229 0706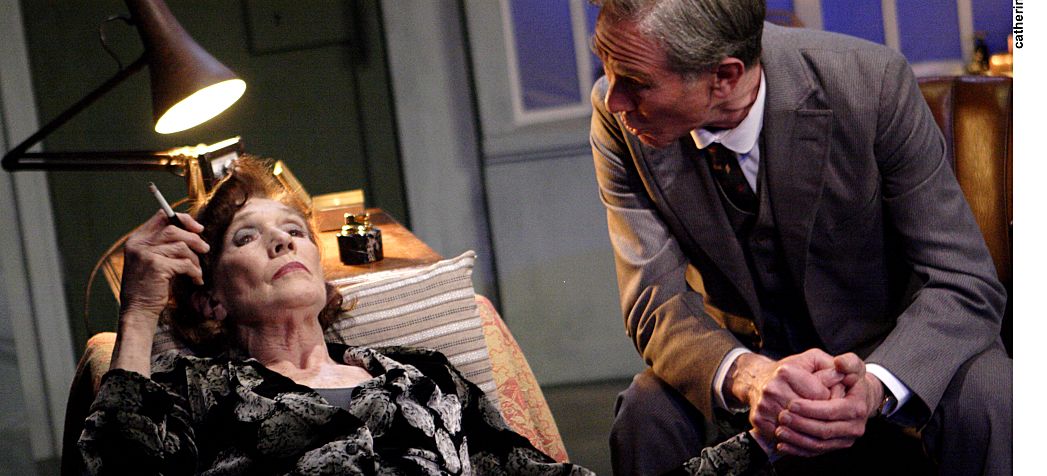 Share this production on Twitter or Facebook!
DANCES OF DEATH
August Strindberg
A new version by Howard Brenton
Directed by Tom Littler
Design James Perkins
Lighting William Reynolds
Sound George Dennis
Stage Manager Charlotte D'Arcy
Deputy Stage Manager Katy Munroe Farlie
Movement Director Quinny Sacks
Scenic Art Fani Parali
Production Manager Bernd Fauler
Fight Director Terry King
Cast Richard Beanland, Edward Franklin, Linda Marllowe, Michael Pennington, Christopher Ravenscroft, Eleanor Wyld

Part One. Autumn. A military base on a small island.
Part Two. Summer. A couple of years later. A house on the other side of the island.

Meet Edgar and Alice. Married for almost thirty years, theirs is a relationship of explosive mutual loathing. Strindberg's tale paints a compulsive and bitterly funny portrait of a magnificently doomed couple, whose ongoing battle threatens not only their future, but that of their friends and children as well.

This world premiere of a gripping new adaptation by Howard Brenton — one of our most distinguished and brilliant playwrights—gives a unique chance to see not only Part One but also the rarely performed Part Two of this masterpiece of European theatre, condensed into a single two-act drama.
"Played with a piercing precision."
The Stage

"At the interval one of my colleagues remarked that the emotional tension was such that she'd gnawed a small hole in her raincoat. When critics start chewing their garments, you know that something remarkable is happening onstage."
The Telegraph

"This whirlwind of a play captured my faculties entirely, and consumed me mind, body and soul."
A Younger Theatre
30 May – 06 July
Dances of Death
Dances of Death
Box office: 020 7229 0706