DATES

---

Press Night

---

Supporter's Night

---

Young People's Night

---

Caption Night

---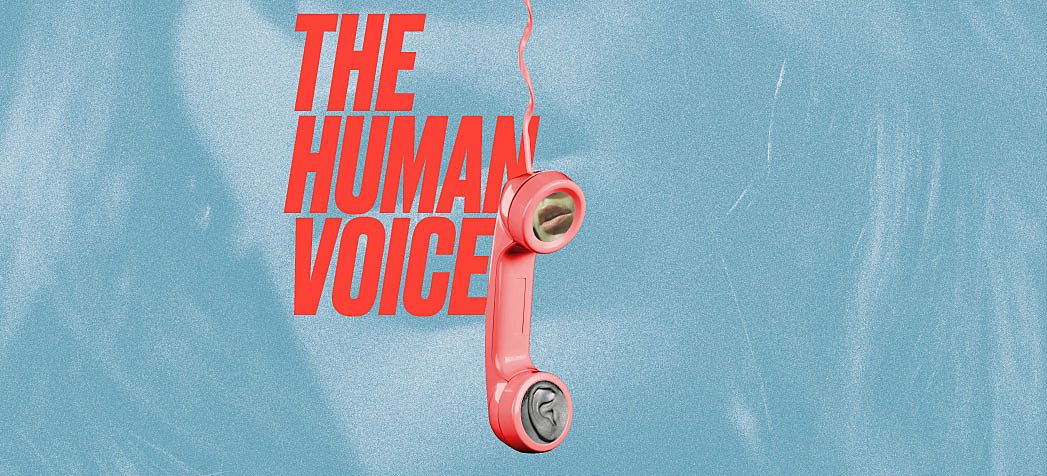 Share this production on Twitter or Facebook!
'I'm whispering into your ear - and we couldn't be further apart.'

A woman, a phone call, a final conversation.

In this extraordinary and prophetic monologue a woman fights for the person she loves. Jean Cocteau's iconic play explores our desperate need for human relationships - and the machine that has changed them forever.

This production will present a brand new version of this classic text, 34 years since it was first produced at the Gate Theatre.

Thanks to the Comité Jean Cocteau.
13 September – 6 October

Press Night: 18 September
Supporter's Night: 20 September
Young People's Night: 28 September
Caption Night: 4 October

Evening performances: 7.30pm
Matinees: 3pm
The Human Voice Production Syndicate

Your support will help our talented team bringThe Human Voice back to the Gate for the first time in 37 years. This universal tale explores the desperate need for human relationships and the machine that has changed them forever. By joining a Production Syndicate you will gain an even closer insight into the theatre-making process with the chance to meet the cast and creative team along the way and celebrate with them on Press Night!
Please see The Human Voice Production Syndicate Pack for full details or contact the Development Office for more information:
development@gatetheatre.co.uk | 0207 229 5387

"The Gate creates work of a scope and scale which belies its size and tells stories which attempt to reach far out beyond its four walls. I would like to honour this mission and would be grateful if you would consider collaborating with me to support this production." Daniel Raggett, Director.


Arts Council England
Thanks to the Comité Jean Cocteau
The Gate Theatre is supported by Jerwood Charitable Foundation.
Jerwood Designers
Since 2001 Jerwood Designers has given outstanding individuals the opportunity to lead on the design of productions at the Gate Theatre in Notting Hill.
The support that the Jerwood Designers [link to Jerwood page] scheme provides in both nurturing talent and offering the opportunity of practical experience has been instrumental in launching the careers of some of the country's most exciting theatrical designers. Jerwood have now supported 90 placements on the Designers programme over the course of 16 years.
http://jerwoodcharitablefoundation.org/
We are deeply grateful for the faith in our work shown by our funders.
Sarah is an award-winning performance designer.

She studied Design for Stage at The Royal Central School of Speech & Drama, graduating in 2011 with First Class Honours. Later that year she was awarded The Linbury Prize for Stage Design.

From 2015-2016, she was the Designer On Attachment at The Old Vic Theatre. Her work has been exhibited at The National Theatre, World Stage Design (Cardiff), the Victoria and Albert Museum and World Stage Design 2017 (Taiwan).

Sarah has designed for venues in the UK and internationally including Sadler's Wells, Manchester Royal Exchange, Trafalgar Studios, Hampstead Theatre, The Oxford Playhouse, The Lowry, Altes Schauspielhaus (Germany), Theatre Rigiblik (Switzerland), Freedom Theatre (Palestine) & Lit Live Festival (India).

She is an Associate Artist of Engineer Theatre Collective and a visiting lecturer at the RCSSD. She works from her studio in Shoreditch, London.
Kirsten is a London-based Stage Manager, who moved to the UK from Singapore in 2011. She recently spent a year in Cardiff studying an MA in Stage and Event Management, at Royal Welsh College of Music and Drama.

Theatre credits include: Deputy Stage Manager – A Midsummer Night's Dream (UK Tour / Lyric Hammersmith), Dido and Aeneas (Blackheath Halls Opera), Peter Pan (Harlow Playhouse), The Last Ambulance (Gate Theatre, Notting Hill), Street Scene (Sherman Theatre), MOLLY (Pleasance Theatre / Edinburgh Fringe Festival).

Assistant Stage Manager - Twelfth Night (The Watermill, Newbury), My Mother Said I Never Should (The Other Palace), Land of Our Fathers (UK tour), The Separation (Theatre503), The Dinner (Vault Festival 2015).

Stage Manager Intern - Knives in Hens (Donmar Warehouse).
Gareth has been working as a Production Manager for over 10 years in London and internationally. He has worked on small and large scale tours, site specific, immersive and new and experimental theatre.

Gareth is also the Director of Groundswell Arts, an arts organisation that creates bespoke projects with schools, community and children's centres.
Jessica Hung Han Yun is a UK based lighting designer, using light as a tool to transform spaces in a variety of productions, from theatre through to dance, circus and installation.

Most recently Jessica has designed for productions such as Hive City Legacy by Hot Brown Honey & Roundhouse; The Party's Over by Nonsuch Theatre Company; Gypsy Disco at Boomtown Festival; Becoming Shades by Chivaree Circus and Nine Foot Nine by Sleepless Theatre Company, for which she was nominated for the Off West End Award for Best Lighting Designer 2018.
Daniel Raggett's work in theatre includes, as director, A Marked Man for HighTide; Old Vic New Voices: 24 Hour Playsat the Old Vic; The Seagull at Bloomsbury Theatre; and Mr Kolpert at the Edinburgh Fringe. As associate director his work includes Network and The Red Barn at the National Theatre; Hamlet at the Almeida and in the West End; 1984on UK tour, international tour, at the Almeida, in the West End and on Broadway; Mary Stuart, Iliad and Odyssey at the Almeida; and Bad Jews in the West End. He was previously resident director on The Nether in the West End; and staff director on Three Days in the Country and A Small Family Business at the National Theatre.
Jean Cocteau, (1889 - 1963) was a French poet, librettist, novelist, actor, film director, and painter. Some of his most important works include the poem L'Ange Heurtebise; the play Orphée; the novels Les Enfants terribles and La Machine infernale and his surrealistic motion pictures Le Sang d'un poète and La Belle et la bête.
DATES

---

Press Night

---

Supporter's Night

---

Young People's Night

---

Caption Night

---