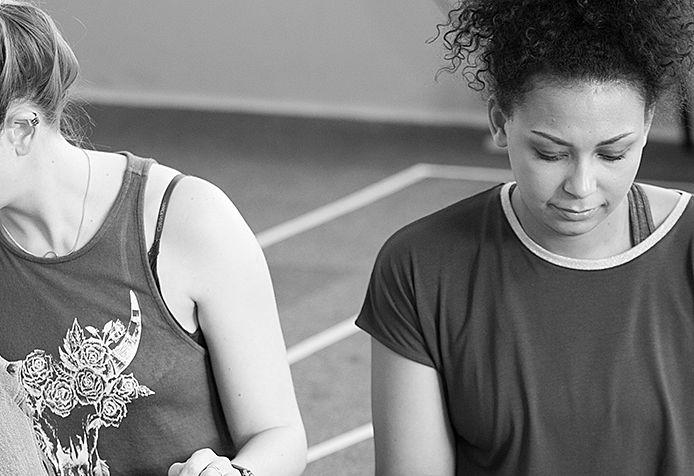 11 July 2016 • Gate Theatre
Diary of a Madman Rehearsals: Week 2
In the early stages of any career it's inevitable that you'll be learning new things all the time. My first day into week 2 of
Diary of a Madman
rehearsals, I found myself learning all manner of things; not least that methylated spirit comes in a shade of purple that looks so delicious you don't need a hazard sign to know it's toxic, and the joy of blu-tack is definitely subject to the law of diminishing returns.
Truthfully, the play was thrust on its feet at the end of week 1 and it's been full steam ahead since then. The rehearsal room is marked up, all the research is up on the walls (see blu-tack reference above), the prop table is fast filling up… it's been incredibly engrossing to see the mythology of the play come to life. Watching Chris lift Al's words off the page and build his world onstage is like watching a bouncy castle inflate - you're filled with eager anticipation because you just know it's going to be insanely fun.
A particular challenge this week has been finding a balance between preventing the room from becoming a sweat-lodge and preserving actor audibility (something that was occasionally lost with all the windows open). For those of you unfamiliar with the Clapham Common soundscape, this week we were treated to an alarming frequency of emergency vehicle sirens, a half an hour church bell interlude, a chorus of roadworks and, perhaps most delightful of all, was the unexpected band practice. Of particular note, we enjoyed (what felt like) a 20 minute trombone solo, which of course underscored the emotions of the play flawlessly.
As the second week comes to a close I'll leave you with one final tangential thought: just as [Beyonce's new album]
Lemonade
has worked it's way into our lives, so too might it work it's way into this play. How, you may ask? Well, you'll just have to book tickets to the previews at the end of the month to find out.
Catch the previews of
Diary of a Madman
here at the Gate Theatre, 28th - 30th July.
Enjoyed the blog? Share it on Twitter or Facebook!