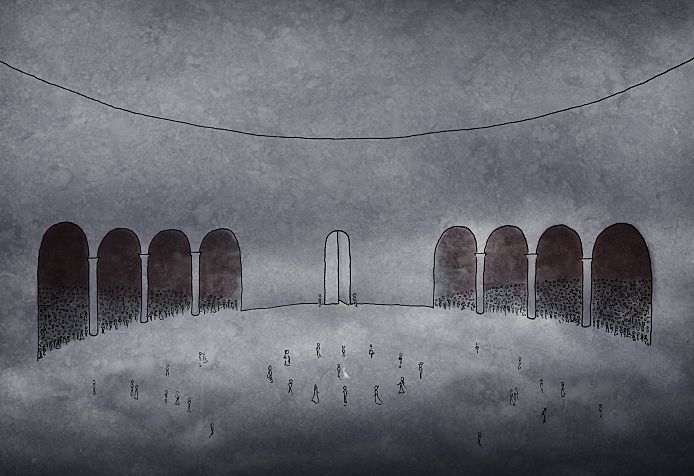 5 May 2016 • Adult Jazz
Here's How the Music Began: A Blog by Adult Jazz
1. What was your impression of
Here's How It All Began
when you first read it?
First impressions - that it was laced with a dry wit and that it sat nicely out of time. It brings a scene from the Trojan War Cycle out of its known context. The Gods feel lighter here, free from the heaviness of millennia of retelling - I think that lightness is there in Hattie Morahan's performance too. But the play reimagines without straying into the sometimes-cheesy territory of present day reworks.
2. Can you tell us how you worked with the director to develop the music for the production?
Barring a brief flirtation with youth musical theatre for a couple of us, we're not particularly theatre-d. So it was a fun thing to do, to find common ground between the language of two different forms, and we were in it for the learning. We shared some sonic/visual/cinematic references with each other that seemed to fit well as a starting point. And we 'staged' the scene a bit when we met too, establishing a sense of space and talking about how the music could have a physical place within the wedding party.
3. What detail in the music for the production are you most proud of/excites you the most?
I'm quite into the string sample we've used to back Eris' entry into the party. It nods towards what Mica Levi did fully well (!) in scoring
Under The Skin
. Also, after Eris leaves, Tom's reworked the main motif into a quite a manic, skittish thing - its ended up sounding like rogue woodwind.
4. How did Adult Jazz come about?
Steve, Tim and Harry grew up in the suburbs of Guildford, but managed to escape with creative inclinations still in tact. We ended up studying at the same time in Leeds where we met Tom, who soon became part of the band. We played a few shows around Leeds and spent our university summers in the Scottish Borders recording our first album. At the moment, we're living in South London, and are about to put out our next record.
5. What's the most exciting thing about being a musician? And what are the challenges?
Happy mistakes in the creative process are a good one. With that, you might end up trying and failing to recreate a 'bad take' because of how you get attached to it's character. Also, I think in the writing stages, music absolutely lends itself to collaboration. It has always been a social thing.
But joint ownership over a song can be a challenge too. When we write as a band, there are four individual minds whose own designs on the music fall in and out of sync. Of course, it works when you share enough of a common idea - you just have to allow your original vision to get blurred and bent in that sharing process, and there is joy to be had in making compromises to people who you trust as artists.
Listen to the play
here
.
Enjoyed the blog? Share it on Twitter or Facebook!