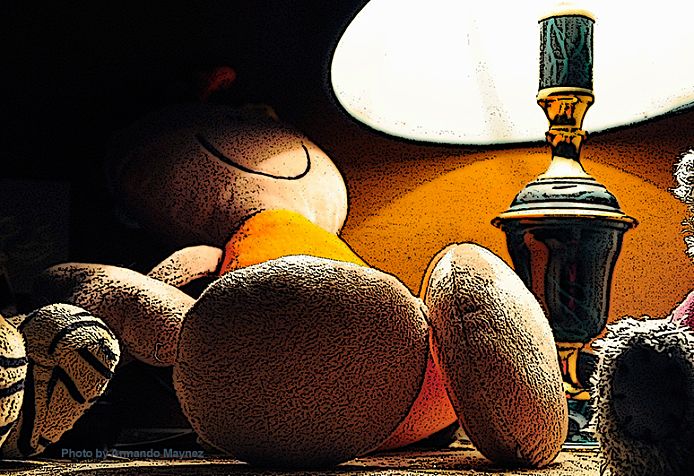 22 December 2015 • Nina Segal
The Stories We (Don't) Tell: A Blog by writer Nina Segal
In The Night Time (Before The Sun Rises)
is a play about telling stories – the stories we tell to ourselves, to each other and to understand the world. From the earliest age, we engage with the world through stories – from the moment of birth, we begin receiving narratives and crafting our own. And from almost that first moment, those narratives become selective, become unreliable. Did your mother really take the wheel on the way to the hospital, punching the horn to shunt the slow-moving buses out the way? Did her waters really break in the middle of the shopping centre or was that something that someone saw one time on television? Did you really come out clean and new and perfect and not-at-all-covered in a film of shit and dirt and fluid? Did the dawn really break over the city skyline ('
like magic'
, your grandma used to like to say) as you took your very first cry? Maybe. Maybe not. Maybe something like that, but not quite or maybe not at all.
It often feels, to me at least, like all acts of memory are acts of storytelling; and all storytelling is an act of choosing a narrative and forgetting (intentionally or otherwise) all others. I am interested in theatre as a form of collective storytelling, a collective selecting and collective forgetting, and in the worth and intention of stories – to entertain, to educate, to soothe, to warn, to broker peace or incite war, to pass on knowledge or presence or faith. I am interested in what's behind our stories, below them, what hopes or fears or circumstances give birth to each particular story. Which stories we choose to tell and which others float like ghosts untold. There are too many, far too many, incomprehensibly too many, stories in the world for us to hear or tell them all and so, we have to choose. There are too many unhappy endings, too many news reports, too many headlines and images and statistics and speeches for us to comprehend and so, we have to - or choose to- choose, looking up at one and away from the other. We raise our children with storytelling, swaddle them in fairytales and parables, curating all the time which stories enter our home, pass through our locked doors and into our imagination. What are the stories that we choose to tell our children? What do our choices tell them about ourselves and the world?
There's a bit in Peter Pan that swam to mind as I've been writing, in a hazy, murky way that makes me sure I'm misremembering it, misinterpreting it, in the way that I consciously and unconsciously revise most stories from childhood. There's a boy and a window and a shadow and a separation. Half is left outside the window and half within. In the separation, both parts, the body and the shadow, seem, in my memory, to become noticeable in a way greater than they had previously been – in the act of separation, we notice the shadow. In separating off one part, the brighter part, the makes-sense-part, the looks-and-feels-like-human-part, we start, maybe for the first time, to see everything else; everything we did not choose. I think there's something of this feeling at the heart of
In The Night Time
– in the depth and dark of night, the parents try to choose the child, the colour, the animation, but end up only seeing the shadow. In the stories that they choose to tell, they begin to see all the other stories left untold, all the things they don't dare tell the child, not yet, if ever. What happens to these un-chosen, unselected stories that linger in the room like shapes in the darkness? And what happens when we, and our children, start to notice them?
Catch
In the Night Time (Before the Sun Rises)
at the Gate Theatre, 4th - 27th February.
Join the conversation – tell us your thoughts on
Twitter
and
Facebook
!
Enjoyed the blog? Share it on Twitter or Facebook!