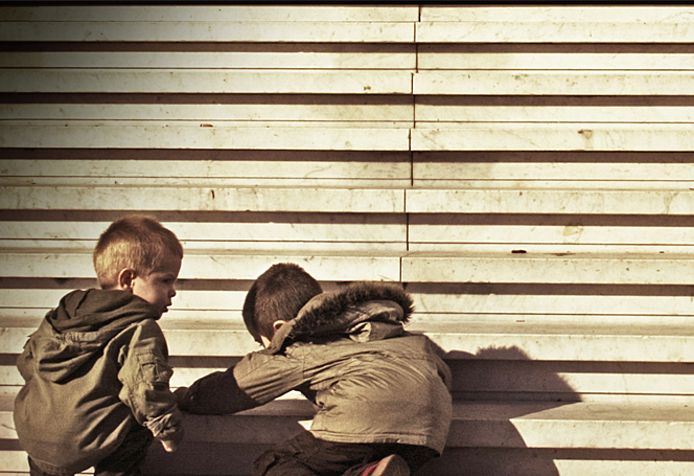 2 December 2015 • Eliza Diggle McDermott
Student Reporter: Reviewing Medea
Sixth Form student Eliza Diggle McDermott reviewed our production of
Medea
. As a
teaching theatre
, the Gate prides itself on being a springboard for the theatre leaders of tomorrow - artists, administrators and even critics. We were delighted to receive this review from a student reporter and hope to encourage even more young people to participate in the work that we do.
Medea - A Modern Twist on a Mythical Classic
From Greek mythology, Medea is notorious for her spine-chilling tale. Abandoned by her true love, Jason (famously known from Greek mythology as the leader of the Argonauts), she seeks revenge on her husband by killing their children. In association with Belvoir, Sydney, the Gate Theatre (Notting Hill Gate) presents the completely transformed and modernised performance of Euripides' classic. Told from the perspective of the two children, writer Kate Mulvany and writer-director Anne-Louise Sarks set the story in the children's bedroom and the audience are able to literally step into the world of the children and watch as their tragic story unfolds.
As the two children, Leon (Keir Edkins-O'Brien/ Bili Keogh) and Jasper (Bobby Smalldridge/ Samuel Menhinick), play in their room, they know their lives are about to change. Their parents, Medea (Emma Beattie) and Jason (who is not seen in the performance), are fighting downstairs and it becomes known that their father is leaving their mother and they are all to live in a mansion with Dad's 'friend'.
Medea
is a shockingly realistic representation of normal life with moments such as the children tidying their room and young Jasper getting changed adding to the realism. It was in fact the moments without speech which appeared to make this production so realistic, showing that people do not talk all the time so neither should the characters.
A beautiful play,
Medea
is a perfect combination of childish comedy and heartbreaking tragedy. Until the very last moment, the audience is captivated by the fascinating tale of Medea's children.
Originally posted on
This is Local London
.
Enjoyed the blog? Share it on Twitter or Facebook!