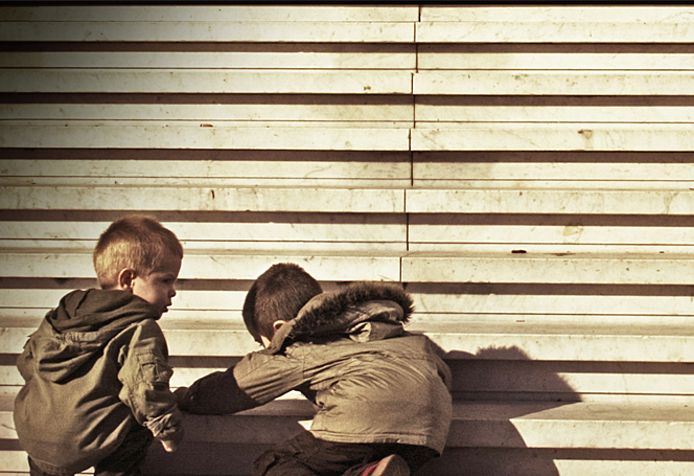 8 December 2015 • Gate Theatre
Giving a New Home to the Medea Set
Part of our artistic mission is that
no two visits
to the Gate are ever the same. Our Designers are ambitious and our production values are high, so the Gate, like many small-scale arts organisations, is continually aware of the concept of sustainability: operating in an environment of limited resources but aiming to celebrate the highest quality of standards regardless.
So, how does the Gate reconcile high production values and ambitious sets with its sustainability policy:
Green Gate
?
Medea
, having extended for an additional week due to good old popular demand, finishes this Saturday. It's a sad time for us at Gate HQ as we're pretty fond of our
Medea
. That said, I've been (secretly) thinking about getting rid of the set since the first model box meeting back in August. I know, Designers, look away now!
At the Gate, we really do have limited space. Our only storage space at the theatre sits under our seating deck and can only be accessed by the most ungracious of crawls. As such, we must always get creative when disposing of our sets. Sometimes we store sets, but quite often, we use set exchange and freecycle to get rid of bigger items and, when we do have to use the dreaded skip, we book them all with Envirowaste, who are an environmentally-friendly waste removal service. (Take a look at their
blog
.) But, with
Medea
, I was determined this wouldn't be the case.
For those who haven't seen the show, it is set in a young boy's bedroom, complete with two beds, bedside tables, endless toys and two real life (!) goldfish. When I first saw the model box (designed by brilliant Designer Amy Cook), I knew we had to save this one from the skip.
I picked up the phone to a friend who works for one of the many groups affiliated with
Crossroads Women's Centre
who are situated in Kentish Town and asked her if she knew of anyone in need of children's furniture. And it turns out they did. Crossroad Women's Centre hosts around 15 groups (Women Against Rape, Legal Action for Women, are just two examples). They bring together women from different ages, backgrounds and communities to share experiences, and learn from and support each other. The Centre is a place of safety for vulnerable and low-income women.
So, how do we reconcile our Green Gate policy with our ephemeral theatre world?
Well, I think, in the main part, it's a meaningful Green Gate policy which sits at the heart of our theatre but it also takes a little bit of forward planning and a strong dose of creative thinking that allows us to avoid our sets reaching landfill.
Join the debate – tell us your thoughts on
Twitter
and
Facebook
!
Enjoyed the blog? Share it on Twitter or Facebook!