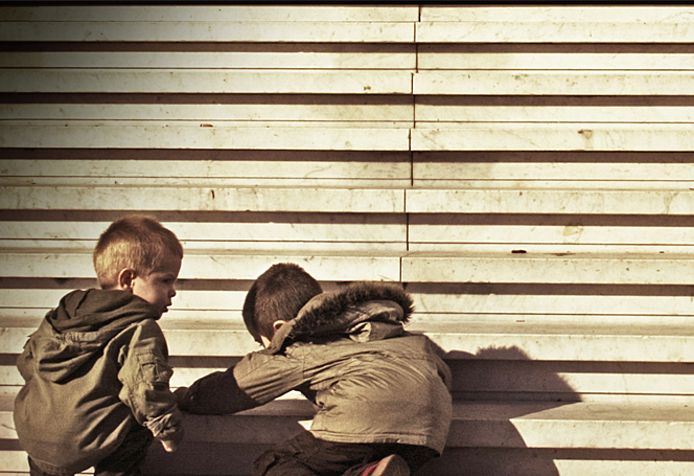 2 December 2015 • Stan Moorcroft
Community Reporter: Reviewing Medea
As part of the Royal Borough of Kensington and Chelsea's
City Living Local Life
initiative, local community reporter Stan Moorcroft reviewed our production of
Medea
. We are delighted about this fantastic opportunity for local residents to become more involved with our theatre. Read his review below.
If I were to say that there exists a theatrical tradition called Greek tragedy I would have just about exhausted my entire knowledge of the subject. I suspect that I am not alone. However no knowledge of Greek literature was required to be spellbound by this production. Two boys trapped inside their bedroom whilst their fate is decided by the collapse of their parents' marriage. They entertained us with a perspective on the world full of wit, absurdity, and innocence. The final tragedy of the play made all the more unbearable by having witnessed before our eyes the very sweetness that lies in the naivety of childhood. The theme of the play is wholly contemporary, love is always seen as the ultimate human emotion, yet what happens when parental love becomes so overpowering that it ceases to make a distinction between the needs of the parent and that of the child? When that boundary dissolves, tragedy ensues.
It is difficult to praise the two young actors Keir Edkins-O'Brien (Leon), and Bobby Smalldridge (Jasper) highly enough for a performance of stunning complexity, conveying Leon's protective instincts for his younger brother and Jasper's wavering between confident assertiveness and severe self-doubt. Though it is Emma Beattie (Medea) who presents the final chilling image, an image that stayed with me as I left the theatre, an image of madness brought about by possessive love. In that I had witnessed magic.
And indeed 'witnessed' lies at the very heart of your experience at the Gate, particularly if, like me, you sit on the front row. Here you are in intimate contact with the action. Nothing separates you from the drama enfolding before your eyes, if crayons are thrown they are as likely to end in your lap as the toy box. This intimacy adds to the intensity of the experience, an 'experience' that comes with the electricity of theatre, for theatre is 'now', immediate, not a captured moment on DVD or IPlayer; every night distinct in flavour and ambience. You can take this experience away as memory, but only as memory, therein lies the glory of live theatre.
Theatre at its best is magic, and in the Gate Theatre we have, on our doorstep, a venue which regularly produces such magic, such chemistry, for the price of an admission ticket.
Check out the
City Living Local Life
blog!
Enjoyed the blog? Share it on Twitter or Facebook!