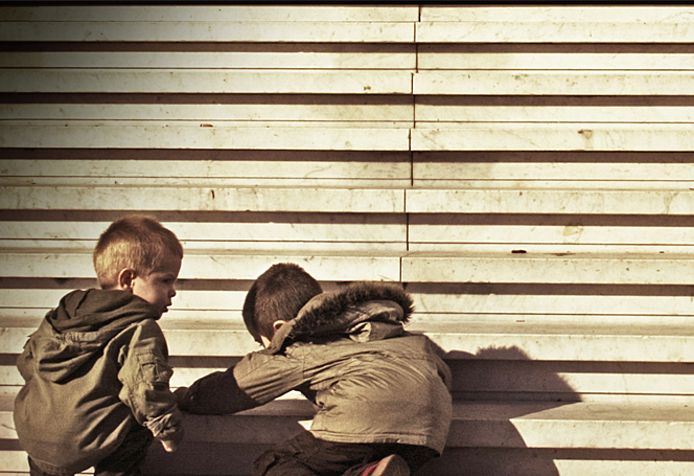 4 November 2015 • Gate Theatre
Interview with the Designer: Amy Jane Cook
1. What was your impression of the script when you first read it?
I thought that it would be really interesting to see how two child actors would cope with being on stage alone for pretty much all of the show. There is no interval and no where to hide, so it would be challenging for any actor, let alone ones so young.
2. Tell us about how you worked with the Director Anne-Louise Sarks to develop the design?
We were really interested in how the audience would relate to the kids in their room. We wanted them to feel implicated in the action as opposed to disconnected from it. We quickly realised that we didn't want there to be a stark divide between playing space and audience space; we wanted the audience to feel as if they were in the room with the boys.
3. What detail in the design for Medea are you most proud of?
I hope that we have created a space that feels really enclosed. We wanted the audience to share in the boys' sense of entrapment. We also wanted to surprise the audience when they enter the space, making them feel that they are immediately stepping into the boys' world.
4. How did you get into design?
I went to university in Edinburgh which has an amazing theatre scene and a great student-run theatre. I was heavily involved in design at the University theatre and by the time i left I knew that I wanted to go into a career in theatre design. I got onto the Motley course which was a wonderful place to train.
5. What's the best and worst thing about being a designer?
The best thing about being a designer is getting to do your something which you would do for free as a job. The worst thing is that sometimes you do feel like you are working for free! It's not the most lucrative career choice.
6. Is there a production that you wish you had been involved with?
I have always wanted to design costumes for a big panto. I love the fun and freedom you can have with something a show like that. There is no such thing as too big or too bold when it come to panto.
Join the debate – tell us your thoughts on
Twitter
and
Facebook
!
Enjoyed the blog? Share it on Twitter or Facebook!