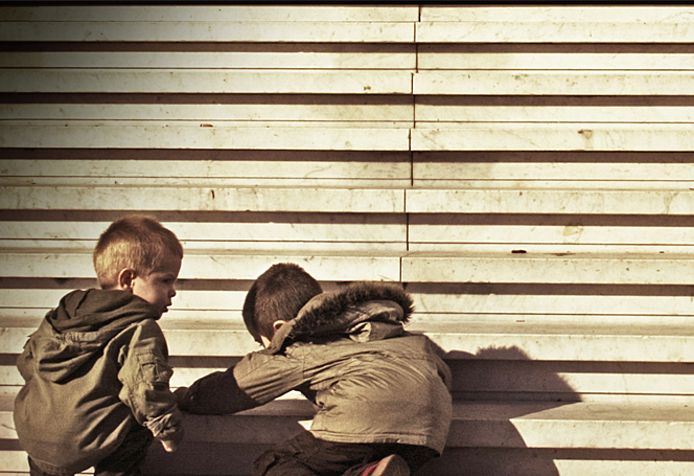 26 October 2015 • Kate Mulvany
Writing Medea: A Blog by co-writer Kate Mulvany
I refuse to use the word 'myth' when it comes to the story of
Medea
. Filicide continues to happen every day – a heartbreaking, ongoing reality. Just this week I have read six devastating news reports of parents murdering their children. Families from all walks of life. Smiling at us from photographs in the paper, their faces strangely familiar. The stories of "what went wrong" are so vast and complex that often we close the newspaper on them with a small shudder and don't dare give it another thought. It's too big. Too confronting. We judge them – these families that look just like us - then throw them aside.
Reading the Euripides version of
Medea
, as wondrous and magnificent as it is, I can't help but think it was too big for him too. He captures the downfall of a marriage brilliantly - the social ramifications of a crumbling relationship, betrayal, jealousy, revenge. Desperate measures. But what of the children that bear the mortal brunt of this disintegrating marriage between Medea and Jason? Where are
their
voices? What are they
doing
? We are shocked at Medea's actions, but do we really mourn for those kids? Why should we? We don't
know
them. They barely appear in the text. And so we "close the newspaper".
When Anne-Louise Sarks asked me to collaborate with her as writer on a new version of
Medea
, it was this notion that interested me the most – to "spin the house around" and see what the kids were doing in their bedroom whilst their parents fought furiously elsewhere. To give these two little boys their rightful voices in history and give them an arena in which to
exist.
To do that, we had to become children ourselves. Along with our original cast members and creative team, we had a fortnight of "playing". We had Nerf fights and improvised story telling, show and tell sessions, heartfelt confessionals about school, what it would be like to live in a mansion, what it is to be a big brother... We talked about the amazing love story of Jason and Medea, about Jason's amazing travels with the Argonauts and Medea's incredible courage in helping him obtain the Golden Fleece. The boys loved the tales and thrived in their improvisations. And the grown-ups in the room had to go there too. We found our own long-forgotten memories of blood noses and star-gazing and observing our parents quirks. We focused, too, on Medea herself. Vilified by history, but when looked at through children's eyes – without judgment or fear - we gained an insight into her heartbreak, her broken mind, her inability to cope, along with a deep, embattled love for her family...
After this intensive workshop, I went away for eight weeks and wrote from the perspective of a child. It was the most fun I've ever had as a writer.
Until it wasn't.
Because in the end, we know what happens to Medea's two little boys.
We know what can happen to seemingly happy families.
To write the ending of this play was the most heartbreaking thing I've ever done. I'm sure Anne-Louise feels the same.
But it was vitally important to us that we didn't close the newspaper. That we really got to spend time with those boys. Two boys in the last hour of their lives. Playing. Fighting. Ruminating. Becoming men. Embracing their humanity.
We encourage our audience to go there too. Leave all preconceived ideas of the story at the door. Take part. Laugh out loud. Be a playmate to those kids for an hour. Watch with an adult's eyes but a child's heart. So that we don't shut these stories out, but recognise them in our own communities and do what we can to relegate the story of
Medea
to an ancient myth, not an ongoing legend.
Join the debate – tell us your thoughts on
Twitter
and
Facebook
!
Enjoyed the blog? Share it on Twitter or Facebook!