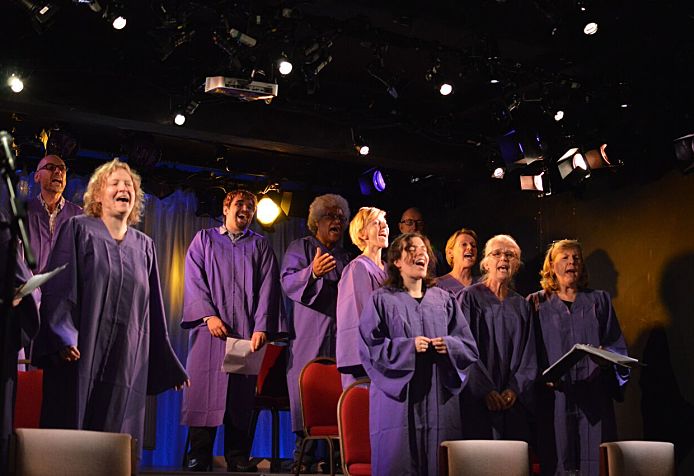 17 September 2015 • Mark Bayley, Chorister
Singing in The Christians' choir
Monteverdi or gospel? I do love singing but it's not often I'm spoilt for that kind of choice! Last Monday evening I was just leaving for a rehearsal of Monteverdi's Vespers I'm singing at Southwark Cathedral with a large choir in November when the phone rings: can I get round to the Gate quick and sing in
The Christians
dress rehearsal? I had been on the Board of the Gate for over 20 years but my only time on stage was enforced audience participation: a waltz with an actress during a play performed entirely in an East European language. With the prospect of a real debut in a play in English in less than an hour, I said I'd be there!
We had been rehearsing the Gospel songs for
The Christians
for several weeks with the South and West London Community Choirs. 'Bel canto' at Monteverdi rehearsals on Monday evenings in the Barbican, 'can belto' at the Community Choir on Tuesdays in Balham. I love Monteverdi and I've sung many gospel songs in the local church choir. But the Community Choir is very different: no audition, just come and sing and belong to a boisterous, lively community of singers led with full force and effect by the larger than life musical director MJ. It's all about breaking down musical barriers too – rocking all over the repertoire from anthems to gospel to rock to the great musical numbers and movements from choral classics. Doing the movements and swaying for
The Christians
gospel songs has been a particularly guilty pleasure! Everyone experiences that wonderful well-being in a full-on rehearsal: they say it's the endorphins generated by the act of singing and that music-making uniquely involves both right and left brain activity at the same time. Whatever the science, singing is the easiest way to create a community. It always makes me feel uplifted.
I stepped down from the board of trustees of the Gate last year and said I would support the Gate's forthcoming production it was taking to the Edinburgh Festival Fringe. I have loved the Gate and everything it stands for and supporting the show was a final way of saying that. And when I realised a community choir was involved, I knew I finally had the break on stage I needed after all those years on the board!
The play at first seemed an odd choice. The truth is that although it is at one level a debate about theology and evil, it is also about the fallibility of leadership. We build communities at work or worship and they have leaders. To me the play is about the pain people when a leader they have loved and respected lets them down with a critical error of judgment. Pastor Paul's great mistake is that as a leader, he no longer felt answerable to the people he leads. He therefore failed and his community fractured under him. Given the huge challenges at work, the play affects me greatly.
Tonight all my friends and family are coming and next week all my work colleagues. And the best thing: none of them know I'll be on stage ……
Like the blog? Share it on Facebook and Twitter!
Enjoyed the blog? Share it on Twitter or Facebook!