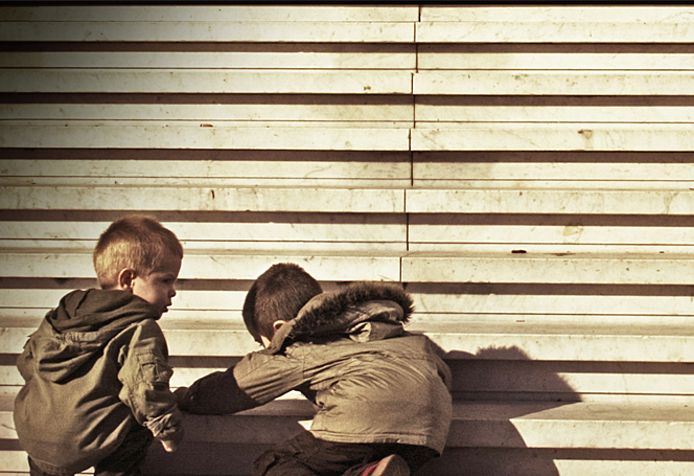 30 September 2015 • Gate Theatre
Medea Rehearsals: Week 2
This version of
Medea
brings to life the scary reality that parents do kill their children. That however warped and horrific we may see this act to be, it is often claimed to come from a place of love.
It appears that the key to finding this distressing conflict in the play is to ensure that Medea is not seen as 'Evil', that revenge may not be her primary motive and that in fact, as she claims, she loves her sons more than anyone has loved anything in the entire universe. It therefore seems paramount, that we, as an audience adore her children. That we see their fresh faced innocence, their care and love for one another and simply the beauty of two kids with wild imaginations exploring the world of their bedroom with absolute truth. To do this with child actors who do not know each other is a challenge. We have spent a lot of this week on the boys relationship with one another, working to create a brotherly bond that is both playful and honest. A lot of this has been done through playing more games; nerf wars, Lego, toy soldiers, teddy bears etc. are mere instruments to facilitate their imaginations and games.
Along with solidifying their relationship we have spent time looking at characteristics. The boys have come up with long lists of words describing their owns characters as well as the others that are seen and talked about during the show. Their work has illustrated how acute their minds are as well as how instinctively they work; we have had long debates about why, if their character was a color, it would of course be yellow, and if they were an animal it would clearly be a monkey and without a shadow of a doubt their element would be wind. We have then been working with these words to explore the space. Finding infinite ways we can spatially and physically portray 'pedantic', 'stroppy', 'energetic', 'curious' etc.
The process of doing this with children is fascinating. They may often go for the most obvious thing first, but after the 15
th
attempt to physically embody 'caring', their guards begin to drop, there is less 'performing' and more 'being' and it becomes a truly beautiful and collaborative thing. This is also true for the transformation of objects on stage. We may have a toy box, but when those tennis balls are stuffed down shirt sleeves and become exploding muscles, or a blanket becomes a hovercraft, it's infectious and a whole new world of possibilities emerge. We join the boys not only in the world of their bedroom but also of their imaginations.
This week it was also great to start working with our wonderful stage combat coach. We're all learning a lot about fencing and how to playfully stay within the parameters of safety on stage.
Having pretty much stayed away from the script entirely so far, it was great to do a read through of the play at the end of the week, and see how much of the work we have been doing has dropped in. Their characters suddenly felt like real people and there was life behind the words on the page. Next week we will be using scripts and I'm really excited about seeing some of the elements begin to come together.
Like the blog? Share it on Facebook and Twitter!
Enjoyed the blog? Share it on Twitter or Facebook!