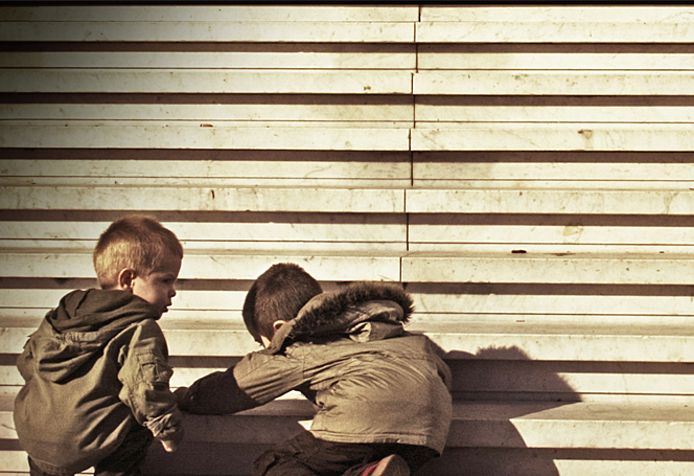 25 September 2015 • Gate Theatre
Medea Rehearsals: Week 1
I have never improved any skill set as quickly as I have in week one of rehearsals for
Medea
. I can safely say I walked into the rehearsal room on Monday with a very limited knowledge of Nerf wars. But 5 days in and my strategic defense building, quick reloading and a sharp aim for the cast have vastly improved.
This rehearsal process is a wonderfully unique thing to be part of. We are currently working with the two casts who will alternate in playing Medea's children, Jasper and Leon. Two brothers aged 11 and 13 are locked in their bedroom, and they do what bored 11 and 13 year old boys would do; sword fights, Nerf wars and enacting violent deaths, they tease each other, look after each other and discuss the world through relatively innocent eyes.
It seems that one of the key elements in the process at this point is to encourage the company to lose their inhibitions and to play from a position of release and impulse. When it comes to irritating your brother there is no right and no wrong, but rather an infinite list of tactics, from farting in their face to teasing them about girls, making them believe there's a spider in the room to stealing their favorite teddy bear. In trying to create this sense of freedom to play within the space and world of the play, we have largely stayed away from the scripts. This has asked all of us to really get in touch with our imaginations, which is sometimes harder to do than one might expect.
There seems to always be a temptation to go back to the script and end up thinking about how the 'actual show' might be, but our director Anne-Louise is brilliant at steering the company away from their desires to know exactly what will happen on the night and encourage absolute commitment to this moment, this game, this relationship here and now. When this happens wonderful things emerge; cheeky, sweet and hilarious things. When this youthful playfulness is met with one of the most epic stories of a family breakdown, something incredibly powerful begins to happen. We are no longer engaging with a myth… where we never actually see the children that she murders, where we only hear about the wars and battles of love and honor. Suddenly we have a huge emotional investment in the domestic side of this epic tale, and the act of a parent killing their child becomes a reality we have to face, not an idea we brush over.
Along with our game playing we have also spent a bit of time breaking the script down into units which we then titled and made note of the key things that happen in each section. It is fascinating to see which elements of action the boys pick out, how sharp their minds are and where their loyalties impulsively lie with the other characters discussed in the play. I can't say I've spent much time hanging out with 12 year olds in the last 14 years (since I was 12 myself) but I'm learning a great deal from them… the world around them is so different to how it was when I was their age, but no matter how much things have changed, if you put a two kids and box of toys in the same room, magical things will happen.
Like the blog? Share it on Facebook and Twitter!
Enjoyed the blog? Share it on Twitter or Facebook!