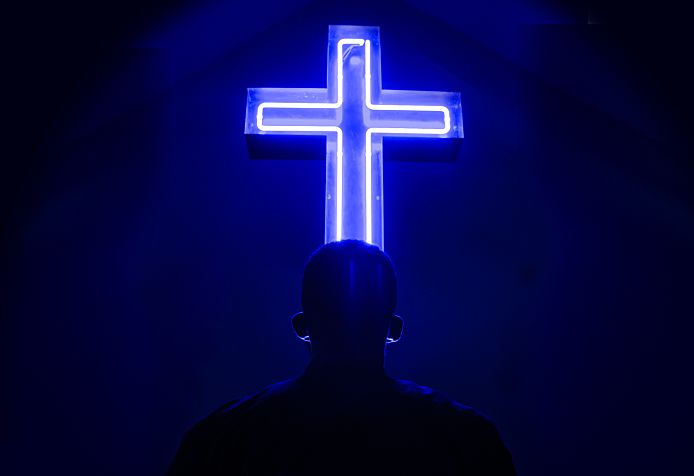 21 September 2015 • Gate Theatre
Interview with the Designer: Oliver Townsend
What was your first impression of the script when you first read it?
I thought it was a great piece. It's conversational and direct in its relationship with the audience yet also depicts very intimate scenes between the characters. And the choir are a huge beautiful living breathing set; so that stood stood out as a fantastically exciting feature on first read.
Tell us about how you worked with the director Christopher Haydon to develop the design.
It was an efficient process. Chris is generally frank and enthusiastic about his work. Which is nice. The script itself is fairly specific so you get a good sense of what will work. On top of that we had a brief: we needed to find common ground between a space as compact as the Gate and one as expansive as the Trav in its current thrust format. Therefore we developed a modular set. All these known factors made several of our choices logical from the word go. The two spaces contextualise the set in different ways but we were able to keep the main acting area to the same basic footprint. It wasn't a piece that we needed to solve conceptually; we just needed to do our jobs efficiently and then pop a cherry on top (eg a big LX cross).
What detail in your design for The Christians are you most proud of?
Not sure. Spatially I find how the set relates to the audience in the Trav really satisfying. . . but probably just how it all came together as a production. From a budget point of view it punches well above its weight. (Hats off to Mike, our production manager)!
How did you get into design?
Accidentally. I felt restless on a painting degree ten years ago.
What's the best and worst thing about being a designer?
The people. The ailments.
Is there a production that you wish you had been involved with?
Not really. The shows I love most aren't generally things I wish I'd worked on: Chris Brett Bailey's
This Is How We Die
and Chris Goode's
Men In The Cities
spring to mind as recent examples. . Not sure: maybe
Curious Incident
because it's a box with a puppy in it and that's literally a present! I guess when I see something like Green Ginger's
Rust
, Improbable's
Satyagraha,
or the recent UK
Urinetown,
which are all grotesque and beautiful in their own ways, I find myself thinking 'I bet this would have been a fun one to imagine up'.
Like the blog? Share it on Facebook and Twitter!
Enjoyed the blog? Share it on Twitter or Facebook!