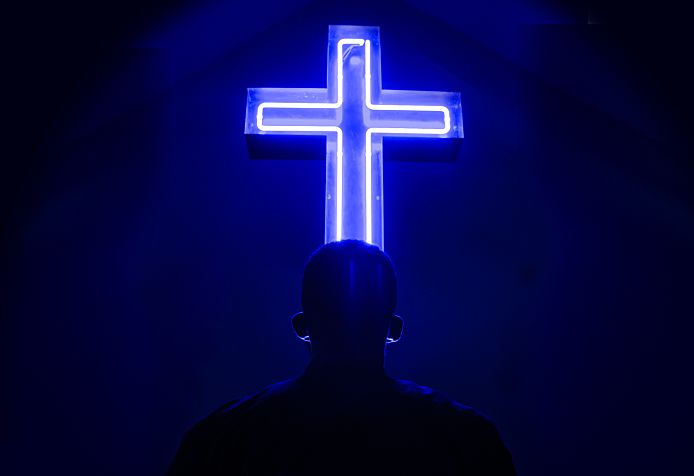 25 August 2015 • Christopher Haydon
Director's Blog: The Christians
Great plays work on multiple levels. For a show to truly resonate in the theatre it needs to not only tell a good story but it needs to allow that story to exist as a metaphor for things that are much greater than itself.
This is why I love
The Christians
. On the surface it is a piece about faith - about what happens when a church's beliefs are suddenly, forcibly changed. In fact, it is based on real events -
Carlton Pearson
was the pastor of a mega church who saw his flock diminish from 5000 to 200 when he declared that he no longer believed in Hell and everyone would be saved.
Yet the play is not confined by its roots in reality. Pastor Paul is not Carlton Pearson. Alongside being a brilliantly written and compelling character, he is also a symbol. He is a leader who has unwittingly lost touch with his followers. His experience demonstrates that no matter how charismatic, honourable and honest one might be, it is still possible to get things badly wrong. In this regard, the play acts as a smartly insightful piece about leadership in any context - this is a point recognised recently by Joyce Macmillan in her
column
in the Scotsman where she uses Paul as a prism through which to view Tony Blair's current relationship with the Labour Party.
Indeed - if a leader is the focal point for a community then what the play does at a much deeper level is examine all the ways that communities build, evolve and collapse. In the play, each of the characters finds themselves in a bind in relation to the discussion around the existence or otherwise of Hell - but their kind of dilemma is one that will be recognised by anyone who has been actively involved in a political party, a charity, or perhaps even a theatre. You can be a hardcore atheist and still recognise a great deal of yourself in each of the people on stage.
Whether the primary concern of a character in the play is with doctrine, money, friendship or love we can look at each of them and see their problems ricocheting in our own lives. The play is gentle and meditative, but it conceals, under this apparently calm surface, a deep well of human experience, passion and pain. That is why I love it.
Enjoyed the blog? Share it on Twitter or Facebook!