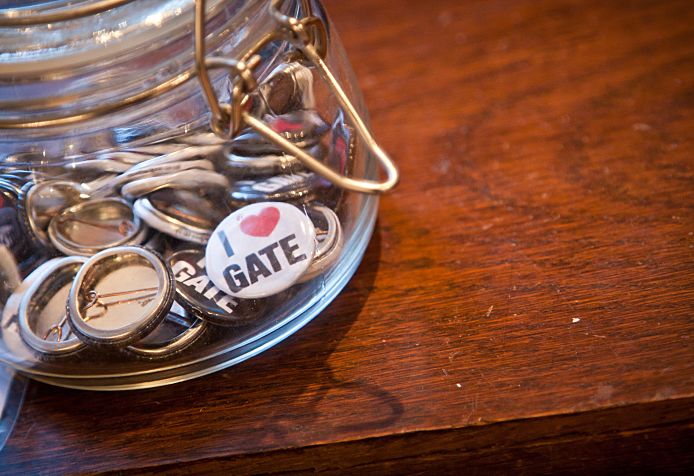 21 May 2015 • Suzy Sancho
Interview with: General Manager Chrissy Angus
Tell us a bit about your job at the Gate?
It might be best to deflect this question to my predecessor Steve Sergeant - now Theatre Operations Manager at Battersea Arts Centre - as I'm writing this after my first week at the Gate Theatre, but I will certainly have a go. As General Manager, no two days are the same. In my first week I've been all around London: in Clapham for production meetings, in London Bridge for a LTC (London Theatre Consortium) meeting and in a storage unit near Goldhawk Road checking out what steel deck we have. The main principal of my job is to ensure the smooth running of venue operations as well as acting as General Manager on the incoming shows. This means viewing everything the Gate does with a Health and Safety hat on (I wish this was a literal hat) and, along with our technical team, thinking about the practical outcome and implications of what the Gate does. I also spend a great deal of my day at my desk dealing with administration; from corresponding with our wider Gate team and external contractors to managing invoices and budgets.
In my first week I've learnt that my job encompasses it all - big and small; from reading scripts and thinking creatively about the theatre's output to what type of soap the theatre uses. And I wouldn't have it any other way.
In an alternate universe, what would your ideal job be?
This is so easy to answer that it's embarrassing. I'd probably shun the theatre world and be a dog walker. I know I'm suppose to say something terribly exciting but for me this really would be a realisation of a life long obsession. I don't have a dog of my own, but I do manage a long distance relationship with my family dog over Skype, but as everyone knows, a long term relationship is hard to maintain. The main reason I applied for a job in at the Gate Theatre is that Notting Hill is rife with our four legged friends. As General Manager I hope to instate an office puppy soon. What can go wrong?
What is the best show you have ever seen?
I can't answer this question, it's too difficult. But, if pushed, it was that show I saw in a carpark in Dublin, it was that play I first read at university, it was that one-on-one show at CPT, it was that rehearsed reading in a small studio where most of the seats were sadly empty, it was that show I saw at the Gate Theatre where I wept, it was that show I saw in Edinburgh at the Pleasance in a space call This or That or Above or Below or something. It was that show I first saw at the Bush Theatre, it was that political show I saw at BAC, it was that beautiful 15 minute scratch at Rich Mix.
If you could swap places with anyone for one day, who would it be?
David Cameron. I'd bring him down from within. But if not Cameron, maybe Grayson Perry?
Why does theatre matter?
I think the best theatre tell us something about what it means to live, rather than prescribe how to live. It's precious when you find those things that make you think intelligently and emotionally. Grayson Perry is an artist that does exactly that. So much theatre does that too. Stories will always matter and it's so important that we have the funding that allows grass roots theatre to thrive and all voices to be heard (John Whittingdale, that bit was for you. I know you're reading.) I would always recommend complementing a love of theatre with other pursuits. It might be that a night in with your friends watching GIRLS and talking about the importance of Lena Dunham or dancing to Robyn's
Dancing On My Own
in a festival tent when it's raining outside are your thing and that's wonderful too.
But come to the Gate, hear what people are talking about and come back if you love it. You probably will.
Enjoyed the blog? Share it on Twitter or Facebook!