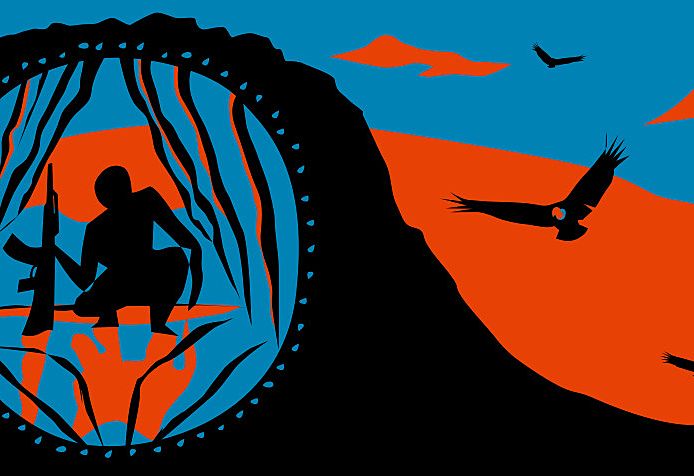 18 February 2015 • Sophie Moniram
In Rehearsal- Props, Moving Forward and Fiasco's Story: Week 2 of Comrade Fiasco
Week 2 – Comrade Fiasco:

We have now come to the end of our second week of rehearsals and the physical language of the piece has come more clearly into focus. A large part of the play sees the characters re-enact their interpretation of the elusive Fiasco's past. The main part of our process this week has been exploring the form that these re-enactments will take. We have been moving chronologically so it will be fun to see how the decisions of this week will inform the articulation of the latter half of the play.

There are stage directions within the text, but Elayce has decided that we will find our own solutions that are responsive to the design choices and that honour the specific imaginations of our cast. Elayce has lead the actors in storytelling and ensemble building exercises, stretching their collective imagination, so that when we moved to play with the stories within the script they were liberated to play and generate a wealth of material. One of the simple ways to mine the creativity of the actors has been pushing the repetition of a sequence, each time asking the actors to try something new. It has been thoroughly enjoyable to observe the brilliant innovative interpretations of say a car journey. As we move into next week we can start to refine the material that we have.

In a wonderfully symbiotic way the design choices made by Elayce and Rosanna Vize (our set designer) which have shaped the staging of the show so far, are now being informed by the instincts of the actors. Elayce's initial vision involved a prop-less stage. This week she conceded to let the actors play with one prop. This one item has been fertile for idea generating in the group and is now deeply embedded in the staging of the play. We have also had visits from members of our creative team. Rosanna has been observing the way the actors move so as to establish the requirements of the costumes she will be making. Our sound designer Richard Hammarton has been present too, getting a feel for the worlds the actors are invoking with their retelling of Fiasco's story. It is exciting to see the aesthetics of the play evolving on a day to day basis.

At the end of Friday's rehearsal we packed up the contents of our rehearsal room whilst our rehearsal set was dismantled. We are now ready to graduate onto the actual set that we will be performing on, which is being erected for us at our new rehearsal room at the National Theatre. We are looking forward to the heightened specificity we can find using this actual set, but more than anything as the set resembles a climbing frame I think everyone is just excited to play!
Enjoyed the blog? Share it on Twitter or Facebook!