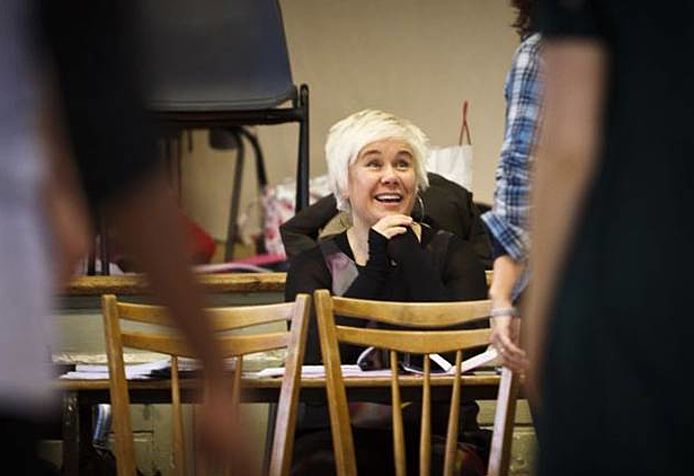 21 October 2014 • by Clare Slater
Emma Rice and the Collective Imagination
I love my job. By day I work as the Executive Director, keeping the Gate on track and striving for newer and bigger things. And then, occasionally, on a Saturday I get to watch our Gate Educate workshops excite people.

This time, however, I wasn't observing. I took part in Emma Rice's workshop on the' Collective Imagination'. I'm not used to getting out of a chair and away from emails and paper. And it was brilliant.

It was an insight into how Kneehigh's creative process works, how everyone in the room has great ideas, and how being scared is normal. We played games that cleared our minds, and that combined movement with voice from the off. We unpicked 'Little Red Riding Hood' and drew diagrams of its plot. We tore apart the wolf, the woodcutter and the girl giving them contradictory but playable characteristics. And we absolutely saw how those exercises are the beginning of a collective, creative process.

I can't possibly write it all out properly in a blog, mainly because Emma's infectious sense of humour just wouldn't translate, but I scribbled some phrases and ideas that struck me as being playful, clear and open, so hopefully useful to anyone reading this - be you actor, director, or Executive Director:

Everyone's a bit lost, and that's ok.

There are no bad ideas.

Have no fear.

It's not about success.

Always look to be surprised.

Cast against type.

It's a collective imagination, but it's not a collective.

Do lots of preparation, but no decision-making in advance.

Emma told us that working at the Gate was a key part of her early career. She was originally an actor: first learning how to tell stories to children, then working with great discipline in Poland and meeting Katie Mitchell, she combined it all in shows like THE WOMEN OF TROY in 1991 and THE HOUSE OF BARNARDA ALBA in 1992 in Notting Hill. Acting for Kneehigh was when other people spotted, before Emma realised it herself, that she was a director in the making. And so she directed THE RED SHOES and rest is history...

It was a real delight to play for an afternoon with her and 20 young artists. What a great way to celebrate the Gate's 35th birthday by seeing someone who was inspired by this small theatre, in turn inspire others.

PS. We asked Emma to write 35 words in celebration of 35 years at the Gate. She said:

We squeezed into one room to change, then squeezed into another to perform. Tight, true and tremendous we popped out of ourselves and expanded with passion, pain and song. Defining times. Thank you.
Enjoyed the blog? Share it on Twitter or Facebook!