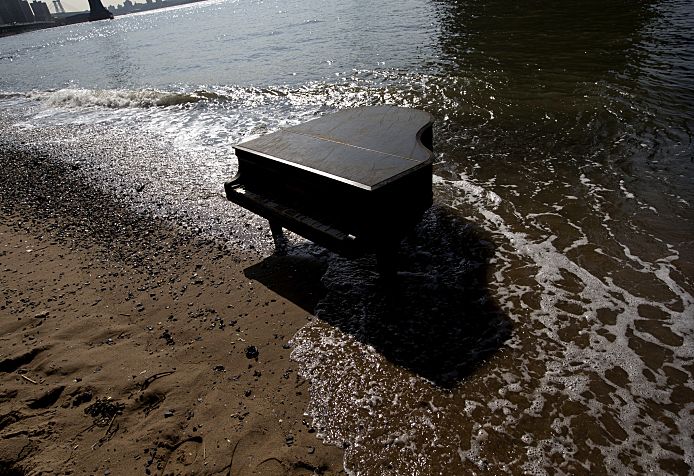 24 June 2014 • by Jon Nicholls
Only six notes...
Jon Nicholls, sound designer and composer of Idomeneus, tells us what inspired him to create his deceptively simple score.

When I first started talking to Ellen about the show I got very excited at the prospect of all that blood and tragedy and thought it'd a be a great opportunity to do a full-on epic cinematic score. After a few trips to the party-popper / rose petal / talcum-powder-strewn rehearsal room in which no-one ever stopped laughing, it didn't seem that this was, in fact, quite the right way to go. In the playfully anarchic world that was being created, in which the mood flickers from moment to moment between tragedy and hilarity, it felt like the music and sound needed to find a similar way of both not taking itself too seriously whilst being utterly serious about all the death and sorrow lurking amongst the empty plastic cups littering the floor.

I tried a whole range of different things, only a few of which survived into the final version of the show, but one particular image that kept coming back to me was the idea of a piano stranded on a beach (much as Idomeneus finds himself), that had been battered and warped by the sea and weather. After subjecting my old upright piano to all sorts of horrors, including sticking strange objects inside it and hitting it with a broomstick, I ended up with a palette of unsettling piano sounds / noises, which have been very useful at punctuating moments when the story's brutally interrupted. Another useful resource were some recordings I made of my long-suffering 10-year-old son (who's stoically used to having microphones thrust in front of him at random moments and asked to make odd noises) saying / whispering the letters i-d-o-m-e-n-e-u-s, which I then processed into long stretched-out textures that form part of the show's soundscape, and which also suggest the voice which Idomeneus imagines he hears in the storm at sea.

But I still didn't really feel I'd cracked the language for the emotional heart of the story, until 2 days before the tech, when I was in the rehearsal room rather despondently packing up my kit and mopping water and talcum powder off my laptop. I played Ellen a little tune I'd written which I thought might be good for one of the characters, which began with a little group of 3 falling notes; she stopped me – 'What if it was just that'? I played them again on the keyboard, and then again a tone lower – and we both simultaneously realised that somehow just the repetition of those six notes, alternately rising and falling, seemed to match perfectly the light yet inexorable tone of the play, and were the perfect musical metaphor for the terrible promise that Idomeneus makes in the first scene.

So having set myself the on-the-face-of-it-rather-drastic rule that I could only use those six notes, I got more music written in the next two days than in the whole of the previous four weeks, and they flow through the whole play in all sorts of different ways: in their original naked form; layered on top of each other at different speeds; chiming together harmoniously; transposed to create all sorts of atonal clashes; stacked vertically to create abrupt chords, to name just a few. And recordings of the six notes became processed and stretched out to create long shimmering textures , which form a large part of the textured soundscapes throughout.

It might sound like an irresponsibly last-minute down-to-the-wire approach, but Idomeneus is such an extraordinary show, and the process of creating it so organic, that I've got a feeling that I probably wouldn't have got to those six notes without the four weeks messing around with all the rest of them beforehand.

Hope you enjoy the show as much as we did making it!
Enjoyed the blog? Share it on Twitter or Facebook!