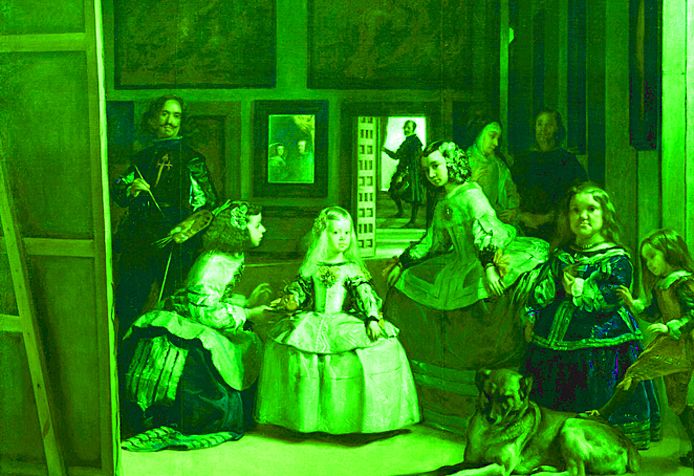 31 March 2014 • by Dr Ruth Adams
Dr Ruth Adams: Fear and Loathing and Las Meninas
Radical Collage as Political Gesture and Artistic Practice: a response to I'd Rather Goya Robbed Me Of My Sleep Than Some Other Asshole.

Dr Ruth Adams – Lecturer in Cultural & Creative Industries, King's College London
Gate Debate – 20 March 2014

The protagonist of the play is not alone in his obsession with Goya. Goya is one of the most important and influential artists in the history of modern art.


He painted some very beautiful pictures, but it was the darker end of Goya's oeuvre was arguably the more resonant and seminal. The so-called 'Black Paintings', the object of our protagonist's pilgrimage to the Prado, are gruesome images of twisted humanity and epic brutality. The most famous of these, Saturn Devouring His Son, is said to depict the Greek myth of a Titan who, fearing his children would defeat him as he had vanquished his own father, ate each of them as they were born. His efforts were in vain, as he was eventually imprisoned by Zeus, his youngest son, and obliged to regurgitate the rest of his children. It seems reasonable to assume it was this painting in particular that the protagonist wished to show his sons, as his consumption of a bacon sandwich in front of his porcine offspring appears to be an homage of sorts. Other black paintings, such as The Dog, seem to embody an existential despair as well as demonstrating a formal daring. Manuela Mena, Chief Curator at the Prado, has claimed that, 'There is not a single contemporary painter in the world that does not pray in front of The Dog.' Visiting the Prado in the last year of his life, Jean Miro is reputed to have requested to see two paintings, The Dog, and that other colossus of Spanish painting, Las Meninas by Velasquez.
The story goes that the Black Paintings were never meant for public consumption. The fourteen works were painted directly on to the walls of his villa near Madrid, by the old, deaf Goya, between 1819 and 1823. In his seventies, a survivor of two near-fatal illnesses and increasingly depressed by the political situation, the paintings have long been assumed to be an external representation of Goya's inner life, and his increasingly dark state of mind. They were intensely personal, and private.
qually dark and grotesque are The Disasters of War, the final set of a larger series of etchings called Los Caprichos, or 'The Follies'. These images offer an unflinching portrayal of the atrocities of the Napoleonic Wars, and were deemed so horrific, not to mention anti-patriotic and anti-clerical, that they were not published until 1863, thirty-five years after Goya's death and nearly forty-five years after their production. The titles of these images reveal a very mordant sense of humour, with possibly the most famous called Great Deeds Against the Dead. 'This is bad,' says the caption of a picture of a monk who has been stabbed through the heart with a French sabre; but 'This is worse,' reads one of a Spaniard who has been impaled on a tree.[1]

These images became the template for all later artistic responses to the horror of war. During the Spanish civil war, Goya's vision was the inspiration for both Picasso's Guernica (1937), and Salvador Dali's Soft Construction with Boiled Beans: Premonition of Civil War (1936). Goya then, and his darker works in particular, represent a zenith of Western art and culture, through their documenting of the nadirs of human behaviour. They are an impassioned and righteous protest against a corrupt and depraved world, and embody a depth of feeling, sincerity and authenticity. They represent the values that our protagonist feels are lacking in a trivial contemporary culture of surface appearances, drowning in banal celebrities and useless commodities. In the play, Disneyland is shorthand for this superficial plastic abomination of a society, and Goya represents a defence against sliding into a terminal Americanisation. If Disney is the hyperreal, Goya is the 'real'.

What then, might our protagonist make of the Chapman Brothers' 'homage' to Goya, which sees Disney-esque grotesquery erupting on to the picture plane of a revered Old Master?

Jake & Dinos Chapman had been playing games with Goya for years, exorcising their obsession with him in a variety of ways, such as rendering his images life size with mutilated shop window dummies. This time, however, it was serious. After making a killing selling an early work to Charles Saatchi, the Chapmans bought a complete, mint condition set set of The Disasters of War, printed from the artist's plates. This was a relatively rare art historical treasure, and they have – according to some critics - vandalised it. Or in the Chapman brothers' own words, 'rectified' it, a word they took from the Stephen King film The Shining, 'when the butler's trying to encourage Jack Nicholson to kill his family - to rectify the situation'.[2] They went very systematically through the entire 80 etchings 'and changed all the visible victims' heads to clowns' heads and puppies' heads'; clowns and puppies that closely resemble those two icons of America capitalism, Ronald McDonald and Micky Mouse. The 'new' work is called Insult to Injury, a knowing nod to both their source material and their critics.
But is this just vandalism?


Arguably, Insult to Injury not a postmodern trashing of Goya but, as Jonathan Jones suggests, 'an extension of his despair', bringing the horror and moral ambivalence of the original works crashing into the neo-imperialist, neo-liberal 21st century. Although Goya endorsed the liberal and secular aspects of Enlightenment thinking, he found other aspects deeply troubling. This ambivalence is clearly expressed in a famous etching from 1799, called The Sleep of Reason. At one level the meaning of this work is clear, when reason sleeps nightmares of ghouls and monsters are conjured up. However, as Thomas Crow argues, it is by no means clear that the cloud of monsters that darkens Goya's self-portrait is that of popular ignorance, soon to be dispersed by the artist's satiric pen and sunlit powers of reason. Just as likely is it that Goya is reflecting upon the distressing antipodes of his own mind and upon the janus-face of Enlightenment itself. For in fact, the very creation of art in an age of Reason entailed a dangerous flirtation with madness. […] In the 'Sleep of Reason,' Goya announces that he is prepared to pay this price.[3]


Goya's faith in Enlightenment reason was clearly shattered by the Napoleonic Wars. Napoleon was a 'self-styled champion of Enlightened values, who was so progressive that he took archaeologists with him to invade Egypt', but when he occupied the Iberian peninsula in 1807 and put his brother on the Spanish throne, this triggered an appalling conflict in which it was hard to tell the difference between the good guys and the baddies. His images show Spanish peasants torturing and desecrating the corpses of French soldiers, and the French butchering the Spanish. The end of the war led to neo-conservatism, a revival of Catholic fervour, and Napoleon was increasingly represented and regarded as a quasi-religious figure.
In stark contrast to the propaganda of his time, Goya saw and demonstrated very graphically that war was a solution to nothing and a recipe only for the worst sorts of inhumanity and irrationality.

This is a truth with which we are still confronted daily, even if governments across the world continue to deny it. As Jonathan Jones observes:

Because Goya was the first artist to reveal the gross face of war stripped of all chivalry, romance and idealism, because he captured something quintessential about modern war, all succeeding generations of artists have seen war through his eyes: they have recognised in the Disasters of War a template for their own nightmares.
The poet Charles Baudelaire said of Goya's etchings that they demonstrated a love of the ungraspable, a feeling for violent contrasts, for the blank horrors of nature, and for human countenances weirdly brutalized by circumstances…light and dark play across all these grotesque horrors; and what a singular kind of playfulness![4]

We see this same dark horror and black humour, these same 'violent contrasts' in Insult to Injury.

Between Goya and the Chapman Brothers we can trace a line through art history and western culture of the use of 'violent contrasts' as a way of attacking contemporary values, of challenging taken-for-granted ways of looking at the world and the oppressive conformity and even brutality they allow.
Dada and Surrealism are perhaps the key exponents of this approach, which was intended to be liberating in both a political and an aesthetic sense. Combining and contrasting images in surprising and unsettling ways can be a subversive act; what Umberto Eco has called 'semiotic guerrilla warfare', and can bring about a new reality, a surreality. Lautreamont's phrase, 'Beautiful like the chance meeting of an umbrella and a sewing machine on a dissecting table' neatly captured the 'collage aesthetic' of Dada and Surrealism which, they argued, would bring about 'a total revolution of the object […] Perturbation and deformation are in demand here for their own sakes.'[5]


Man Ray's 'objects of my affection' illustrate this nicely; Cadeau is a flatiron with nails protruding from the bottom. This is an odd sort of gift, and is perhaps the iron that perforates the clothes that our protagonist complained about. This is a hybrid, nonsensical and unsettling object, or as Max Ernst put it, 'He who says collage says the irrational'.

Max Ernst was the master of Surrealist collage, demonstrated most effectively in his collage novels, which cut up and reassembled Victorian book and catalogue illustrations. In the strange images that resulted, idyllic seascapes are scattered with disembodied limbs, and a repressive domesticity is invaded by strange and libidinous creatures. These collage novels satirized not only 19th century values, but functioned also as a formal critique of the novel form, 'since they lack a story which unfolds towards a denouement, and consist instead of a series of episodes only loosely related and having no ending'.[6] The titles of his collages were important to Ernst. Composed on the same principle as the images, he called 'verbal collages'.

The same could be said of the form of literature that our play most closely resembles, the work of Beat and 'Gonzo' writers such as William S Burroughs, Jack Kerouac and Hunter S Thompson. Burroughs famously used cut up techniques in his writing, borrowed from the Surrealists and Dadaists, and implied that such methods could tap into the subconscious and the paranormal. Drug-fuelled streams of consciousness such as On the Road and Fear and Loathing in Las Vegas eschewed any claims to objectivity as well as any conventional narrative arcs. Thompson, one might reasonably assume is the inspiration for the rucksack bursting with drugs and booze that will accompany our protagonist and his unlikely companions to the museum. The play script is a collage of disparate references to brand names, politicians, football, high art, popular culture, philosophy, poetry, food, money, white goods and communications technology, sex, celebrities and death. It's a list that reads like a Pop Art manifesto.

But the position taken by our protagonist would seem to be exactly that which Pop Art railed against. The critic Lawrence Alloway, who worked with the first British pop artists in the 1950s, argued that art that ignored or failed to value mass popular culture was doomed to irrelevance. He wrote:

The definition of culture is changing as a result of the pressure of the great audience, which is no longer new but experienced in the consumption of its arts. Therefore, it is no longer sufficient to define culture solely as something that a minority guards for the few and the future (though such art is uniquely valuable and as precious as ever). Our definition of culture is being stretched beyond the fine art limits imposed on it by Renaissance theory, and refers now, increasingly to the whole complex of human activities. Within this definition, rejection of the mass produced arts is not, as critics think, a defence of culture but an attack on it.[7]


The American commodity culture boom of the post war years certainly offered its seductions, but popular culture was also significant because it was a much more reliable indicator of the current state of the human condition than Old Master painting. The son's contention that

"the best way to understand the misery of modern man, is by spending a spell with Mickey Mouse in person – or rather an ill-paid kid working 12-hour shifts, cooking in a cuddly costume with no breathing holes. Not parading past […] anything painted by Goya, Velazquez, Bosch or Zubiran may well have some validity."

Or is it the contrast between the two that's important?

Guy Debord, leader of the Situationist International, advocated what he called 'Detournement' as a revolutionary practice. Detournement is 'the reuse of pre-existing artistic elements in a new ensemble'.

The two fundamental laws of detournement are the loss of importance of each detourned autonomous element – which may go so far as to lose its original sense completely – and at the same time the organisation of another meaningful ensemble that confers on each element its new scope and effect.[8]

Detournement is a way of turning the ubiquitous spectacle of capitalism and media culture against itself, a means of re-creating the totality of everyday life and fostering a revolutionary consciousness. It demonstrates very graphically that things could be otherwise.

Itself influenced by Dada and Surrealism, the Situationist International inspired in its turn various movements in art and popular culture, the most well known of which was punk, arguably the only genuinely avant-garde mass movement.
Punk, observes Dick Hebdige, 'exemplifies most clearly the subcultural uses of these anarchic modes. It too attempted through 'perturbation and deformation' to disrupt and reorganize meaning.' It sought the 'explosive junctions' and semiotic violence of anomalous juxtapositions as an expression of disgust with a corrupt and moribund society.
The most unremarkable and inappropriate items – a pin, a plastic clothes peg, a television component, a razor blade, a tampon – could be brought within the province of punk (un)fashion. Anything within or without reason could be turned into part of what Vivienne Westwood called 'confrontation dressing' so long as the rupture between 'natural' and constructed context was clearly visible …
Hebdige asserts that ultimately "Cut ups and collages, no matter how bizarre, do not change so much as rearrange things, and needless to say, the 'explosive junction' never occurs: no amount of stylistic incantation can alter the oppressive mode in which the commodities used in subcultures have been produced." Does this suggest that all art, however apparently revolutionary, is ultimately futile? That changing the way we see the world can never affect that world in a fundamental sense because even the most radical culture will be made safe through processes of accommodation and commodification?
However, it is perhaps vital nonetheless to hold on to the hope expressed by the play's protagonist, that art can allow us glimpses of truth, beauty and a momentary escape from our quotidian realities, because this might be as good as it gets.
[1] Christopher Turner, 'I'd like to have stepped on Goya's toes, shouted in his ears and punched him in the face', Tate Etc., Issue 8, 1 September 2006: http://www.tate.org.uk/context-comment/articles/id-have-stepped-on-goyas-toes-shouted-his-ears-and-punched-him-face
[2] Jonathan Jones, 'Look what we did', The Guardian, 31 March 2003: http://www.theguardian.com/culture/2003/mar/31/artsfeatures.turnerprize2003
[3] Thomas Crow, 'The Tensions of Enlightenment: Goya', in Stephen Eisenman (ed.), Nineteenth Century Art: A Critical History, (Thames & Hudson, 2007)
[4] Charles Baudelaire, The Mirror of Art, (Phaidon, 1955)
[5] Dick Hebidge, Subculture: The Meaning of Style, (Routledge, 1979)
[6] Ian Turpin, Ernst, (Phaidon, 1994)
[7] Lawrence Alloway, 'The Arts and the Mass Media', (1958)
[8] Guy Debord, 'Detournement As Negation And Prelude', (1959)
Enjoyed the blog? Share it on Twitter or Facebook!