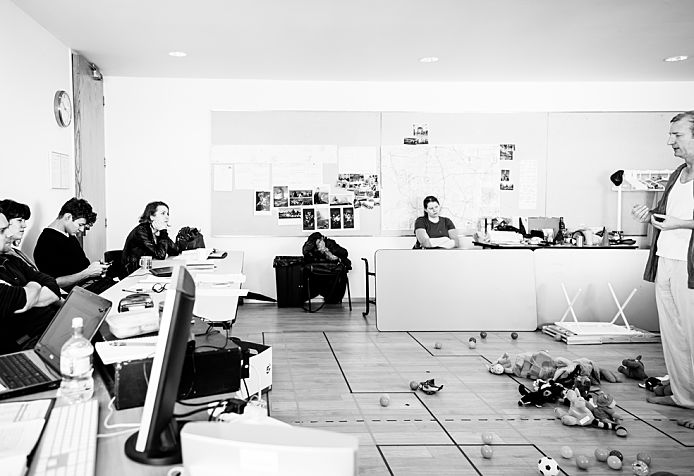 24 February 2014 • by Bella Loudon
In the Rehearsal Room: Goya week one
I've been having trouble sleeping this week – I'm not sure if that's because rehearsals exploring the psychology of an insomniac on the verge of a nervous breakdown is tapping into something personal… if it's because I've been spun in what feels like a giant washing machine disguised as a kitchen every day… or if working on a play that asks us to question why we spend our lives trudging through the monotony of daily routine is making me question my own lifestyle. Perhaps it's a combination. But, at the end of week one, this last reason is of most interest to me. We all have sleepless nights worrying about bills, our families, our friends, whether we're doing the 'right' things with our lives, and then most of us wake up and slot straight back in to the endless cycle of daily routine that we have created for ourselves… But as our protagonist says 'The only way to avoid hitting rock bottom is to do something'… so he does, or at least talks about doing so.
The first week of rehearsals has been fantastic. I have been so impressed with the calm and sensitive atmosphere of the rehearsal room. Ideas need time to breathe and settle, to be reassessed and developed and watching this grow every day has taught me a great deal about the importance of process. Additionally it has simply been a joy to be in a room filled with such talented creatives. To witness minds bursting with ideas, questions, problems and solutions, reminds me why theatre is such an exciting art form.
People in theatre always talk about the importance of collaboration, but this is probably the first time I have seen it actually happen! And as a result what is being created is, I believe, going to be a beautifully formed and full-bodied production. Whilst all the elements my not yet be fitting together perfectly, they are well on their way to creating something really special, something that pushes the boundaries of storytelling and what we might traditionally expect from theatre.
Enjoyed the blog? Share it on Twitter or Facebook!